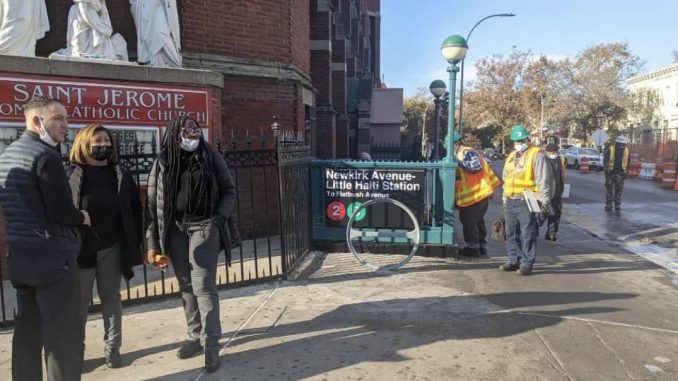 By STEPHANIE ROSERO
On Thursday, the Newkirk Avenue Station in Brooklyn was renamed Newkirk Avenue-Little Haiti.  Assemblymember Rodneyse Bichotte Hermelyn and State Senator Kevin Parker were at a press conference in front of St. Jerome Catholic Church at 11 a.m., unveiling the new name of the subway station. A celebration in the City Council-designated area called Little Haiti, between East 29 St. and Nostrand Avenue, followed the conference, with live entertainment from the Haiti Cultural Exchange and the CUNY Haitian Studies Institute.
The bill to change the subway station name was introduced by Parker in May of 2020. According to the New York State Senate website, the purpose of the bill was to show the Haitian culture to visitors and residents of New York.
Parker said he proposed the renaming of the station in the hope of "furthering the cultural experience, tourism and economic development of all people visiting the Little Haiti Business and Cultural District."
Little Haiti was designated as a neighborhood by New York City cancel back in 2018. It is the home of one of the largest Haitian communities outside of Haiti. The neighborhood hosts Haitian Flag Day parades and other celebrations, and it has streets named after Haitian leaders.
The Number 2 and 5 IRT lines run on the newly-named station.