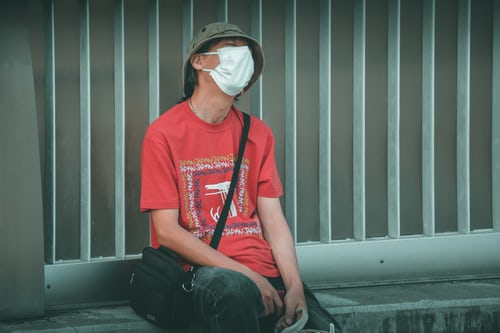 By NATALINA ZIEMAN
On a brisk afternoon in the suburbs of Long Island, the reporter shuts her car door and treks up a steep hill to the house at the top. In the vestibule the approaching guest is welcomed with thriving flowers and the grooming house cat, Simba. The door has opened to coffee-crazed barista Tierney Ryder who greets with a half smile and a dramatized welcome gesture of one arm opening towards the interior of the lovely home. To the left, a homely sign reading "love, laugh, smile," is all too confounding for the subject of this story.
"I went through a short period where I turned to alcohol as the only source of fun," Tierney said in one of her many "quarantine stories."  "To it was truly a fun mind game to try to keep moderation a priority."
Tierney is a barista for HMS Host Starbuck in MacArthur Airport who had been furloughed for seven months.
Due to the restrictions because of COVID-19, millions of Americans became jobless and started to rely on unemployment benefits and one $1,200 stimulus check for every independent adult. But job loss goes deeper than the money. The loss of human connection, physical affection such as hugs and handshakes, and even the friendly smile became a mere memory.
"It went from me choosing to be inside, to me being forced to be inside," said Target team member David Hadnagy, who sought the job mid pandemic. "And I noticed that within the first month me and my boyfriend started picking small fights for no reason. Coming [to work] and being able to see people repeatedly and especially in a place that we know where COVID isn't crawling around here is somewhat of a safe place since they routinely clean. And I've definitely noticed that, not just myself, but a lot of people have been stressed out because of the pandemic."
Mental health deteriorated as unemployment skyrocketed: the beginning of the mental health epidemic. Cabin fever can cause stress and anxiety levels to increase, as well as depression. Relationships have taken hard blows from couples becoming easily irritated and upset – side effects of stress and anxiety.
While financial difficulties are the immediate worry of most people who become unemployed, other subliminal factors will have a toll on peoples' mental state when they begin to realize they do not conform to the societal expectations of the working class routine.
"While many might argue the hardest blow to unemployment is the financial strain, jobs provide many structural necessities that are integral to mental health," said Dr. Alexandra Schira, a psychiatrist from Williamsburg Therapy Group. "Human beings rely on schedules, routines, habits, and consistency to organize and harmonize our internal rhythms."With many services being unavailable due to the shut down of schools and businesses across America, it has cut off people from socialization and basic human connection that helps them cope with trauma and uneasiness."
Near the end of August, the C.D.C. released a survey stating that young people ages 18 to 24 reported the highest levels of symptoms of depression and anxiety, where nearly a quarter of the subjects stated they seriously contemplated suicide.
"I felt trapped," said Ryder."When I was furloughed I was assuming I would be back to work within at most two months. So I spent the first few months just waiting to go back rather than doing anything. That really amplified my anxiety as I didn't have the daily practice of being around and interacting with people. At a certain  point I just kind of hit a 'giving up' period."
In the report, the C.D.C. reported that levels of anxiety and depression had significantly increased from 2019, out of proportion to young adults. So not only is COVID-19 a health risk in 2020, but mental health as well, as we navigate through this year full of uneasiness.
Employment, now, seems to be more cherished because of these times.
"I'm so glad I'm an essential worker," said Suffolk County Corrections Officer who asked to remain anonymous. "I kind of rely on set schedules and busy work. People handle their feelings in different ways, and my way is going to work and worrying about the job more than anything else at the moment. I can't imagine staying inside the same four walls everyday, seeing the same faces. It must drive people mad."
While the COVID-19 cases are surging again to record numbers in America, filings for unemployment benefit claims are decreasing. After seven months of this continuity, hope is being lost by the furloughed workers whose mindset had been "only a couple months at most.'" More Americans join the long-term unemployment train every week – those out of work for at least 27 weeks. Not only does this concern the unemployed, but the re-employed workers whose chances of being furloughed a second time are increasing.