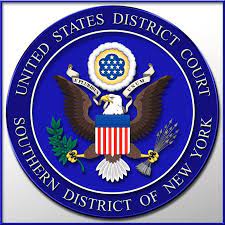 By MAYA SCHUBERT
Leaders of an extremist Jewish sect based in Guatemala were charged on Monday in Manhattan Federal Court with child exploitation offenses against a teenage girl illicitly married to one of their members.
According to the prosecutors, five leading members of the ultra-orthodox sect Lev Tahor have been charged with conspiracy to transport a minor with intent to engage in criminal sexual activity, and travel with intent to engage in illicit sexual conduct. The charges follow the 2018 kidnapping of a then 14-year-old girl and her younger brother. The two minors were brought across the border into Mexico to be reunited with 20-year-old defendant Jacob Rosner, who had been religiously "married" somewhere out of the U.S. to the girl the previous year.
"They were never legally married," a press release filed by the Justice Department stated. "Lev Tahor leadership, including the defendants, required young brides to have sex with their husbands, to tell people outside Lev Tahor that they were not married, to pretend to be older, and to deliver babies inside their homes instead of at a hospital, partially to conceal from the public the mothers' young ages."
Lev Tahor's leadership was won by Nachman Helbrans in 2017 and "embraced several extreme practices, including strict, invasive monitoring of members, frequent beatings, and forced marriages of minors to adult members." In 2017, Helbrans arranged for his niece to be married to Rosner. The following year, the girl's mother fled Lev Tahor's community in Guatemala with her two children and relocated to New York.
Helbrans and several other defendants, Lev Tahor members Yakov Weingarten, Shmeil Weingarten, and Yoil Weingarten, located the family and kidnapped the children in December of 2018, according to prosecutors. After a three-week search from local, federal, and international authorities, the children were found in Mexico and brought back to New York. Helbrans and Rosner were deported to New York, where they were incarcerated on kidnapping charges.
Authorities said that, while in Westchester County Jail, Helbrans discussed recapture with the defendants and repeatedly attempted to communicate with the girl through smuggled cell phones to plan further contact.
The extremist group has previously been investigated for child abuse, including child marriage, fleeing to Guatemala from its Quebec headquarters after Canadian law enforcement opened a probe into its activities. Helbrans' father, Rabbi Schlomo Helbrans, founded the group in the 1980s in Jerusalem and later moved the group to Brooklyn. When the elder Helbrans drowned in 2017, the younger Helbrans told a Hasidic news website he planned to make Lev Tahor more "open, normal."
The first charge against the Lev Tahor leaders has a minimum sentence of 10 years in prison and a maximum of lifetime imprisonment, while the second charge has a maximum sentence of 30 years.
"International borders will not stop the FBI from pursuing justice and enforcing violations of our laws, especially when you target children," FBI Assistant Director William F. Sweeney Jr. said in a statement. "The behavior alleged today is outrageous, and there is no justification for it whatsoever."