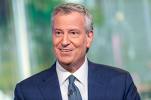 By JENNA  MORALES
Mayor Bill de Blasio and Chancellor Richard Carranza on Thursday welcomed students to the reopening of the Leaders Of Tomorrow middle school in the Bronx as all 1,203 middle schools citywide transitioned to exclusively in-person learning.
"Parents, kids, teachers, educators, staff, everyone wanted to be back in the building, everyonewanted to be together, everyone wants to be there for the kids," de Blasio said.
Middle schoolers parents had to sign consent forms before sending their children  to school to give permission to be tested regularly. Other safety measures include wearing a mask at all times and keeping  a three o six feet distance when in contact with anyone. Deep cleanings will also take place during school hours.
"You can eat off the floors of the school because it's so clean and shiny," Carranza said after visiting the school.
"We are now beating back the virus, over 30,000 of our educators have received a vaccine and that number is increasing everyday," added the chancellor  "The CDC recently adopted the safe health and safety standards that we in New York City have had in place since September; together we wrote the play book for delivering a safe and supportive education for our children."
Many students were thrilled to be back in a classroom for the first time since November.
Student Malik was asked by de Blasio, "Why do you not like remote learning so much ?
'"Because it's weird, " Malik said.
Another student, Joshua, told the mayor, "It's boring."
Students said that they missed their friends and lessons and many said they were relieved that in-person learning has begun again.