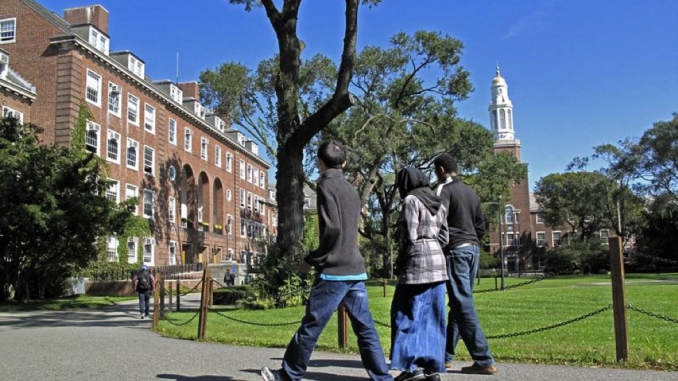 By SAMIA AFSAR
For decades, the United States has been the epicenter of higher education, attracting generations of students from around the globe. However, in more recent times, the US is witnessing a steady decline in interest from foreign students. In fact, the US government reported an 18% drop in overall international student visa holders and a whopping 72% decrease in new enrollments even prior to the COVID-19 pandemic.
The decline in enrollment rates can be attributed to factors such as competition from countries like Canada and Australia. A recent study conducted by the National Foundation for American Policy (NFAP), found international student enrollment rates dropped by 7% at US institutions but rose 52% at Canadian colleges during 2016-2019.
"I always dreamed about studying in America," said 18-year-old Mana Rai, who resides in Kathmandu, Nepal. "But with little to no hope of being able to stay in the country after graduating, Canada is starting to seem like more of a better option," she added during a phone interview.
Unlike the United States, Canada offers visa and immigration opportunities, allowing international students to remain in the country immediately following graduation through its Post-Graduation Work Permit (PGWP), which is commonly seen as the first major step towards obtaining permanent resident status.
According to data collected by Immigration, Refugees and Citizenship Canada (IRCC), from January to October 2021, 97.5% of international students who applied for permanent residency following their graduation were successful and were awarded legal permission to stay and work in the country.
By contrast, following the Trump administration's short-lived immigration directive, over one million international students in the United States were barred from residing in the country if their school offered a fully online schedule for the Fall 2020 semester. Students already in the United States were to be deported and the remaining students that had already left the country were denied re-entry.
"I was shocked," said Rai. "How can you deport someone with a valid visa? It was purely racist and the message was very clear– we [international students] are obviously not welcome in the States," she said.
Although the Trump administrations immigration directive rescinded the directive after facing eight federal lawsuits and the opposition of hundreds of universities, it still prohibited new international admission from entering the United States if their school was conducted entirely online, inconveniencing thousands to attend classes with major time differences and limited physical resources.
Similarly, denial rates for employment-based Green Cards increased by 15.5% in the last quarter of 2019, again under the Trump Administration, making obtaining permanent residency in the United States more challenging than ever before.
Other foreign students ponder whether the tuition costs and additional fees that come with obtaining an American education are truly worthwhile.
"Simply put, it's just too expensive," said 21-year-old London resident, Naomi Harris. "I don't see the point in spending tens of thousands of dollars on tuition alone, with no guarantee of getting a job or any possibility of being able to stay back in the country," she said.
Educators also ascribe the decline in foreign enrollment rates to what they are calling the 'Trump Effect,' in which anti-immigrant rhetoric has caused a general concern over the safety and security of international students in the United States.
"After the 2016 election, there was a lot of anti-immigrant sentiment," said Jesus Perez, who is Director of the Immigrant Student Success Office at CUNY Brooklyn College. "People [International Students] felt not welcome or that being here [the United States] would be an uphill battle," he said.
Despite the hardships and overall foreign disinterest, international students already in the United States are eager to complete their degree and accredit American education for its financial power.
"I left India knowing I would have more of an opportunity making more money here in the same field," said 24-year-old Brooklyn College marketing student, Yajat Mahjan. "I'm also a chef, but I wasn't making enough money in India to live in the city, whereas in New York I am able to make enough money to sustain myself," he said.
As of 2019, Brooklyn College was home to 578 international students from over 50 countries, largely from China, South Korea, and India. The Brooklyn College International Student Services Office was unable to provide comparative data on international student enrollment rates from pre-pandemic years to the present day, despite repeated efforts to get in contact with them. However, the campus community heavily relies on its international community and recognizes their usefulness at Brooklyn College.
"International students bring value to the campus," said Perez. "Especially with college and academia, we want to be able to look at things from a different perspective, so they [International Students] enrich our community," he said.