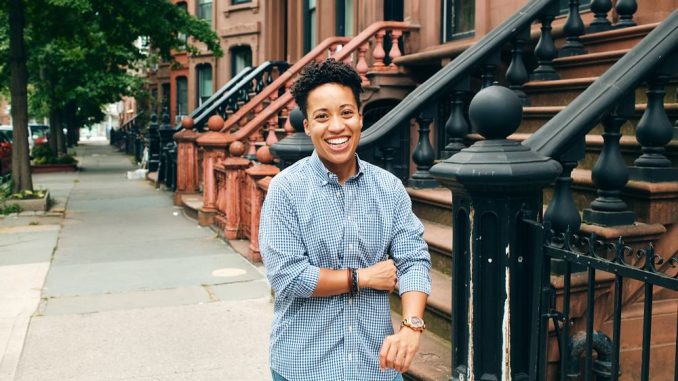 By MATT HIRSCH
Incoming New York City Council member Crystal Hudson (together with newly elected member Kristin Richardson Jordan) made history as the first Black, openly gay women elected to the legislative body.
"My intersectional identities position me to make sure that everybody's voice is being heard. Everybody is represented, but also that nobody is overlooked," Hudson told Brooklyn News Service in an interview on Thursday. "I think holding the identities that I do will ensure that nobody is overlooked."
(While Hudson is from Brooklyn, Richardson is from Harlem.)
Hudson notes that the challenges brought on by the pandemic have left many Brooklynites in danger of losing their homes, once the eviction moratorium ends on Jan. 15, 2022. This issue, which disproportionately affects people of color and immigrants, is one of Hudson's immediate concerns once she takes office.
"The first priority is to ensure that everybody stays in their homes," said Hudson. "Whether you're a homeowner or rent, we want to make sure that everybody stays in their homes."
However, the economic challenges faced by Brooklynites extend beyond the eviction moratorium. Concerns about access to healthcare, proper funding for schools, and unemployment are all of importance to her.
"I think making sure that our small businesses are being invested in so people can get back to work. Making sure that our healthcare system is the best that it can be, particularly our public healthcare system so that people can get the care they need and deserve," she said. "Also investing in our schools, making sure our schools have all the resources they need so that kids can continue to learn."
Along with supporting small businesses, Hudson plans to expand support for the elderly and those who care for them. That's an issue that's near and dear to her, as she has first-hand experience as a caregiver for her mother, who was diagnosed with Alzheimer's disease.
"For seniors, we need to ensure that they have every opportunity to stay at home and to age safely at home where they feel most comfortable in environments that are most familiar to them," she said. "And that means that we have to ensure that they can afford to stay where they are, especially those who may be on a fixed income."
On the opposite side of that coin, she wants to expand services for caregivers, to help them provide that care while managing their own lives. "For people who work in an office place, you get access to healthcare and a 401k and livable living wages and things like that," said Hudson. "And when you work in someone's home . . . you don't have access to the same workplace protections and you don't have access to the same opportunities. And so, I think we need to create a system that allows caretakers of all sorts to be able to thrive and to take care of their own families."
Hudson is also a proponent of the vaccine mandate. And in response to the 9,000 municipal employees laid off due to non-compliance, she said, "I think we have to start thinking beyond just ourselves. And we have to think about the people who are most vulnerable around us, like children, like older people. Thankfully, now children can get vaccinated. But I think people have to be willing to sometimes make a sacrifice for the greater good."
One of the policies Hudson supports is "defunding" the NYPD. It is a highly divisive position, one that mayor-elect and former NYPD captain Eric Adams has publicly disavowed.
Hudson's campaign website lists details her plans for community-led safety.
"Nobody is talking about zeroing out the police budget and eliminating the police force. We're talking about, do the police need to have the excessive amounts of equipment?" she said. "When we think about investing in our communities and investing in our youth, does that money need to go to the police or does it need to go to some of these other programs and services?"
Of note, Hudson opposed Mayor-elect Adams' proposal to bring back the Bloomberg-era "stop and frisk" policy as "stop, question, and frisk," calling it a "step back" for policing policy.
Hudson proposes investing in "community-led safety decoupled from law enforcement."
Hudson's progressive policies are a reflection of her, "intersectional identities," she said. She referred to a quote she shared in her Twitter bio. It was from the late Brooklyn rapper Notorious B.I.G.: "Spread love, it's the Brooklyn Way."