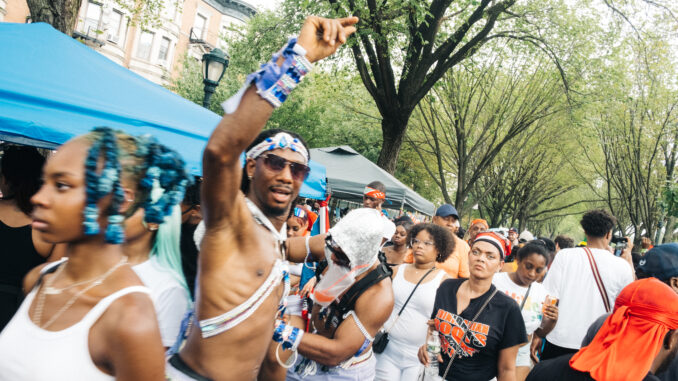 BY TONY LIPKA
On Labor Day, over one million New Yorkers bore the 90-degree heat to represent their cultural
heritage along Eastern Parkway. While crime was present, the majority of the West Indian Day
parade-goers stayed spirited.
Every year it seems, there are instances of violent crime. Including this year, where police said
a conflict and eventual shooting led to three injuries not far from the route. But in spite of this,
upon entering Eastern Parkway, visitors were greeted by scents of grilled fish and jerk chicken,
Caribbean dance music ringing from all directions, and brightly clothed performers.
Visiting from Maryland on recommendation from their Airbnb host, Erin (23) and Frank (25), who
declined to provide surnames, smiled from the sidelines. Erin, with a Jamaican flag hanging
from her pocket, came to represent her friends and relatives from the Caribbean island. "I just
love seeing black people," she said. "I live in a predominantly white area so it's just nice being
here."
Established in the 1940s, according to research by Columbia University, the parade started
when immigrants and descendants of ex-slaves were granted a permit to freely express their
long-standing outdoor cultural traditions in Harlem. Postponed due to a riot in 1964, tradition
prevailed, but five years later the parade was relocated to Brooklyn's Eastern Parkway, taking
place between Utica Ave and Grand Army Plaza, where it has been held since.
The parade "brings in 300 million dollars of revenue activity for the weekend." Assemblymember
Brian Cunningham told the New York Post.
Walking past the parade route and down Utica Avenue, its clear where the money is going.
Travelling just a few blocks, a distance that would normally take five minutes, takes twenty.
Small business owners sat outside to greet the influx of customers, while independent
entrepreneurs set up shop on the sidewalks, selling everything from goldfish to fried shark.
Back along the parade route, East Flatbush resident Larry Singh, was unbothered by the record
breaking heat; this was not his first time attending. "I've been coming a long time, probably
about 30 years," he said.
This past Monday was the parades second year back from cancellation. Like most other public
events, In 2020 and 2021 the parade and preceding J'ouvert celebrations were postponed due
to the COVID-19 pandemic.
Reflecting on his 30 years of attendance, Singh noticed the impact of the cancellations. "First
there was a whole lot a people, for years you couldnt walk anywhere."
He continued, "but its slowly coming back."