Iconic statue of Frederick Douglass looks toward new Harlem construction.(Reza Malek Photos)
By REZA MALEK
For 20-year-old James Dillard, a business major at Columbia University, Harlem is the place to be. Looking for a place to move into after he graduates, Dillard is considering Harlem as one his primary locations.
"It's the place to be right now. Harlem is a growing area of New York City and everyone is moving there," said Dillard, who is from Boston and lives in Morningside Heights. "Everything is changing, and there's just so much culture and history in Harlem, there's no where else like it in the city."
Harlem has long been known as the capital of black urban America. But a walk down Malcolm X Boulevard – where signs on longtime stores say "FOR RENT," "STORE CLOSED," and "OUT OF BUSINESS" – shows that a shift is accelerating.
Many expect that Columbia University's plan to expand its campus will speed the process and transform the historic neighborhood. While that is forcing out many longtime black residents, newcomers see the changes as a great benefit.
"It's the happening place in New York City," said Mehdi Bozorgmehr, a sociology professor at City College of New York. "There's been a huge injection of wealth into Harlem and it'll attract the upper class or upper-middle class from all over the city to want to live there."
The planned Columbia campus "will hopefully do great things for that neighborhood," Bozogmehr said. "Yes, some will have to leave, but this is what happens when neighborhoods change."
New restaurants and businesses have started to move into Harlem neighborhoods in anticipation of a new wave of residents. Ristorante Settepani, an upscale restaurant known for its Italian and Mediterranean cuisine and stylish atmosphere, opened recently right in the heart of Harlem on 120th Street and Malcolm X Boulevard.
Thomas Ortiz, a waiter at Ristorante Settepani, said the restaurant added a lot to the neighborhood. "It shows with the kind of people walking in," Ortiz said. "Harlem is definitely going through a sort of gentrification. A lot of money is coming in and it's showing with the rent prices, people moving in, and the whole vibe of Harlem."
Central and West Harlem, more specifically 110th to 125th streets from Morningside Drive to Malcolm X Boulevard, and Columbia University's upcoming Manhattanville Campus from 125th to 134th streets from Broadway to 12th Avenue, have already seen a great deal of gentrification.
According to the American Community Survey, in 2008, for the first time since the 1930s, fewer than half of residents were black – 40 percent at the time.
In 2000, the population of central Harlem was no more than 7 percent white in any census tract. By 2013, the lowest percentage of white population in an area of central Harlem was 13 percent, and the highest was 31 percent, according to census data from the American Community Survey.
"Everyone knows the neighborhood is changing," said Emmanuel Torres, a junior at Columbia who is roommates with Dillard.
Over time, the increasing investment in Harlem has led to rising rent, and that increase is what inevitably forces out people.
"It's when these changes happen that people from the outside start to move into these new developed neighborhoods in Harlem," said William Gibbons, chief of reference at the City College of New York library.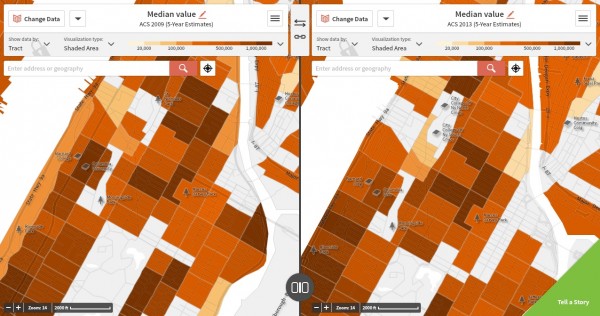 Map shows quick rise in Harlem real estate values, 2009 to 2013. Source: ACS and Social Explorer.
In 2009, 25 percent of owner-occupied housing units in central Harlem were valued more than $1 million. Four years later, that increased to 32.5 percent.
From 2009 to 2013, median house values for all owner occupied housing units increased from $612,625 to $735,757.
One building in particular, 303 W. 118 St. at Frederick Douglass Boulevard, was listed last year at $4.3 million, becoming the most expensive residential homes in the neighborhood. It is a sign of what could be in store for the neighborhood.
These developments are the reason so many small businesses in the local community are being forced to either move away from the neighborhood, or close down.
One restaurant in particular, Dinosaur Bar-B-Que, was forced to move from its West 131st Street location to its new home on 125th Street and 12th Avenue. Its relocation was part of Columbia University's effort to help businesses in the Manhattanville area to find new spaces within the same community as its own developments continued on the 17 acres that will soon become Columbia's new campus.
Michelle Gonzalez, a waitress at Dinosaur Bar-B-Que, said that the new location has brought many positives, as well as some negatives, to the restaurant. "We lost a good amount of regular customers when we moved down here," she said. "A lot of them moved completely. But we're seeing a lot of new fresh faces, both in the restaurant and in the neighborhood, which is nice to see." When asked on her thoughts about Columbia's new campus, Gonzalez said, "it's definitely going to do great things for the area."
The real estate advisory firm MNS noted in its Manhattan Rental Market Report for September that Harlem saw the largest annual rental growth in the borough, with rents increasing by 19.9 percent, largely led by the continuing surge of new construction in the area.
Average studio rent with a doorman in Harlem currently stands at $2,658, whereas on the Upper West Side, the rent is just above that at $2,850, according to the MNS September 2015 report. In September 2014, a Harlem two-bedroom apartment rent was averaging at $3,465; a year later it was $4,491, an increase of 29 percent.
One store that has been able to keep up with the increase in rent prices is Lilac Nail & Spa on 111th Street and Frederick Douglass Boulevard. "Rent has gone up in the last year or so dramatically, but it's been a two-way street and we have more people coming in our store, so we're lucky and it's worked out quite well," said store manager Sara Cordova. "I know a lot of stores around us have closed, but new businesses are coming in and it's giving this part of Harlem a fresh new look."
Along with the increase in rent across central Harlem, there is an increase in median household income. In 2009, the median income was $38,078, compared to the $48,909 in 2013, according to American Community Survey. However, this spike in median income also signals a change in the population, as people with higher incomes are moving in.
Columbia University's upcoming Manhattanville Campus will gentrify and create a new kind of Harlem in the coming years. The 17-acre project, which has an estimated cost of $6 billion to $10 billion, will span from 125th to 134th streets, from Broadway to 12th Avenue, and will take nearly three decades to complete. The first building, The Jerome L. Greene Science Center, home to the Mortimer B. Zuckerman Mind, Brain, Behavior Institute, is to open in 2016.
However, in the eyes of many of the current residents, the university will end up tearing down everything that is currently in that 17-acre area. About 1,600 people are currently employed in this part of Manhattanville, and some 400 live there.
"Yes, I've seen and heard all about the new campus. I probably won't be around to see the finished product, but it's great for Columbia to get that space," said Dillard. "Yeah it's tough for those that lived and worked there, but sometimes these things happen and they're for the best."