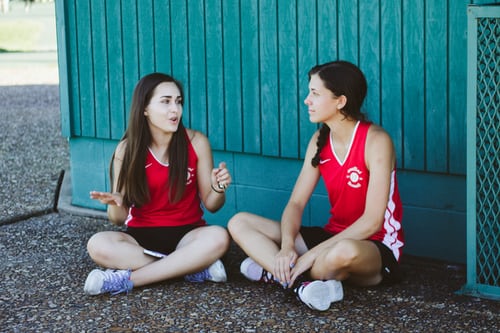 By JONATHON WHEELER
In March of 2020, Hanna Busto was just a regular high school junior at General Brown High School in Upstate New York. She played sports and was at the time in the middle of track and field season. She had gotten word that they would be getting an extra week of spring break.
"Who doesn't like a longer break?" said Hanna.  But then it all became a little too real for her. When the school then notified her that she was to then pick up her belongings at a designated time, she knew that school was over for the year, and with that, her sports season was over, too.
Many studies have been done about what sports does to a person's mental health, specifically high school students. Hanna says she believes that sports help students get a better mindset by being  part of a team.
This sentiment was echoed by Dr. Taylor Singer, a licensed therapist, who explained that having a social support was important for high schoolers to have a successful support system.
"I know that for a lot of students the social aspect of playing sports is really important," said George Emrich, athletic director at Watertown City School District in Watertown, N.Y. Emrich awent on to say that participating in any extra-circular activity will probably make students more social.
"But you could say that about any extra-circular activity," he added.
Meanwhile high schoolers are now missing that interaction with their teammates and their schoolmates.
According to newportacademy.com, sports and exercise also increase serotonin, the chemical that helps with good mental health.
The website also showed research about that physical exercise was as effective as antidepressants.
A U.K. website also stresses the importance of sports for children, including a study showing that sports and physical activity can reduce stress, anxiety, depression and improve self-esteem. The study also highlighted the importance of physical exercise in minority groups and the LGBTQ community.
"Sports teach teamwork, sports teach students how to be leaders, sports teach perseverance," said Emrich. "Kids see when they work hard and they achieve their goals, they see what that's like"
Another sports lessons looms important: People generally focus on the winners, but in sports there's also a team that loses.
"You can learn how to try real hard,"the coach added.  "Not necessarily win, but if you can measure your personal best, and how good you can achieve with anything you're talking about, then even when you lose you're still going to learn and improve."
The question remains, How did students react to sports being taken away from them?
Hanna says that she absolutely noticed a difference after sports were suspended: she wasn't able to keep busy.
"[The parents] are so happy we're having this [intramural program] just because … during the pandemic [the students] just were introverts, and they thought they really needed something like our intramural sports program" said Emrich.\
"They just told me how disappointed they were," Emrich said of the parents.
Hanna says she lost her favorite thing about school  — playing sports. But now, she has even more time to do her next favorite activity: working at Kinney Drugs.