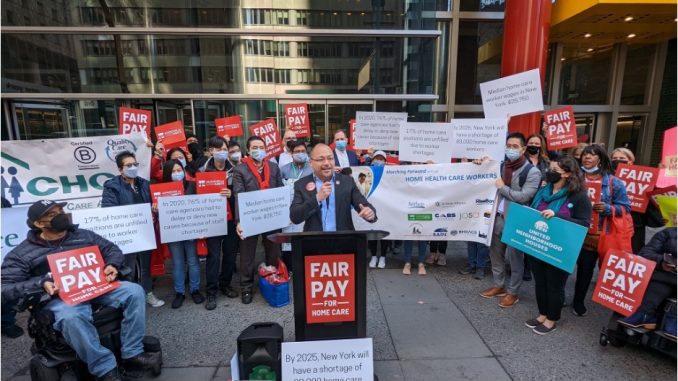 By BILLY WOOD
Home care workers in New York, like so many essential workers, have been a driving force throughout the COVID-19 pandemic. However, due to low wages thousands of workers have left this field for other jobs offering better pay.
In 2020, 76% of home care agencies were forced to delay or reject families who wanted to hire a home health care aide because of the worker shortage. Because of that both older and disabled New Yorkers did not get the care that they needed. As a matter of fact, 17% of home care positions are left unfilled due to staff shortages.
In Dec., Governor New York Kathy Hochul stated that health care workers should be paid more.
"This is going to be one of our highest priorities in my State of the State," she said. She acknowledged that because of the low wages, many home health care aides have decided to look elsewhere for employment or even gave up on the health care field.
In NY 90% of home care workers are women and 60% immigrants. There are about 60,000 home care workers that are represented by 1199SEIU, the health care union.
"Unfortunately, this is a job that's just been historically undervalued and underpaid," said Madeline Sterling, MD, MPH. She is an Assistant Professor of Medicine at Weill Cornell Medicine and is a health services researcher. "And I think that it really needs to change."
According to LaborPress.org, the average salary of a home care worker in New York City is $15 an hour. "So despite providing day to day care to patients and providing critically essential care many are really struggling to make ends meet earning really low wages," said Dr. Sterling.
Yoselyn Fernandez is a home care worker at the New York Foundation and has been in this field for 20 years. "Honestly, I don't think it is sufficient [wages] because we get asked to do basically what a nurse does," she said in Spanish as her daughter Gloria translated for her.
"We cook, clean, and bathe them," said Gladys Medina in Spanish as her daughter Ximena translated for her. She too is a home care worker and has been employed at Signature Care for 12 years. "We even assist them to use the bathroom and that sometimes requires us to help them out of their wheelchairs or change their diapers."
They are also responsible for giving them medicine and bringing them to appointments.
On Mar. 16, the Fair Pay for Home Care Act was introduced at the state level in New York. The mandate would raise home care wages to 150% of the minimum wage. That would make home health care agents wages between $19.80 and $22.50 an hour.
Rachel May, a Democratic Senator from Syracuse and chair of the Committee on Aging, is sponsoring the S5374A bill. "With New York State's population growing older and demanding the choice of long-term care at home, I am hopeful to get a substantial investment in our home care workforce this budget" she said. "By including Fair Pay for Home care in the budget, we can provide a dignified, living wage to thousands of workers while keeping seniors in their homes home, where they want to be."
As the deadline is approaching, more than 100 home care workers rallied at the 1199SEIU headquarters in Manhattan with Rev. Al Sharpton and Public Advocate Juamaane Williams on Tues., Mar. 22. They wanted to send a message to Gov. Hochul and that is to include a permanent raise for home care workers in the state budget.
"As the state budget deadline approaches, Albany must include Fair Pay for Home Care so that workers can receive fair wages, providers can ensure the best possible care, and more future home care workers join the industry," said Williams as per the press release from 1199SEIU. "The pandemic has shown how critical it is to be able to receive high-quality care in our homes and laid bare the state's failure to support the people doing that work-as we recover from the pandemic, we can't allow this crisis to continue."
At the rally, Rev. Sharpton said even in the depths of the pandemic when even Times Square was deserted, "the only people who showed up in the Twilight Zone were home-care workers. You can't Zoom home care. You can't do home care remote."
Many of these home care workers have risked their families and their own health in order to take care of their clients.
"When you do this kind of job, you have to be loving and compassionate," Delisa Sewell-Henry, an 1199 home-care delegate, told the crowd. "It's not an easy job." During the worst of the pandemic, she added, home-care workers took care of people when "their own children wouldn't come visit them."
Now it is time to take care of them. The bill passed both the Assembly and the Senate and is on the way to Gov. Hochul's desk.