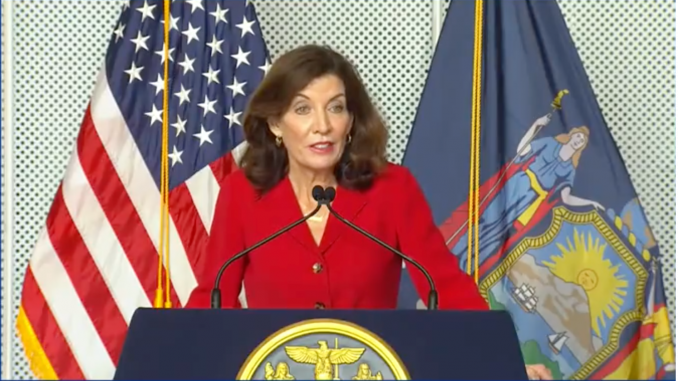 By FAWAAD FAROOQ
Thursday, at John Jay College, Gov. Kathy Hochul signed a package of bills to stem a crisis painfully impacting so many New Yorkers.
Hochul said the bills were "personal" to her. She mentioned having  a nephew, Michael, who died due to an opioid addiction six years ago. She did not identify him further.
"He did not set out to be a teenage addict," Hochul said. "That was not his goal in life. He was a young athlete and was outgoing."
She made reference to the use of fentanyl, a powerful synthetic opioid, saying it was a "deadly concoction," and she called on New Yorkers to help loved ones dealing with addictions.
"We have lost 5,100 people due to preventable overdoses," she said, adding, "We can no longer sweep these issues under the rug."
She thanked the many families she said have experienced drug crises with loved ones and stood with them, turning grief into emotional support.
She went on to sign a bill that decriminalizes possession of syringes. She said New York jails are full enough with people whose offenses were non violent. She said New York does not need to have people locked up for having a syringe.
Hochul said that "New York supplies millions of syringes to help people because of the public health crisis" but that New Yorkers have still been getting arrested for having the syringes. She said that possession of syringes is no longer against the law.
The room at John Jay College where she made the announcements erupted with applauding.
Among other bills signed by Hochul, there was one mandating medical-based treatment for those going through drug crises in jails.
She also signed one that she said puts an end to the use of "opioid reversal drugs," which are intended to reverse overdoses but in fact have ill consequences.
Hochul concluded, "We are not finished yet . . . We're going to make sure New York leads in the way of how we deal with this crisis."
Following the event, Hochul tweeted, "Today's bill signings will help save lives. To all of those who are struggling with addiction: New York is here for you, we are not giving up on you, and we are going to help you turn your life around."