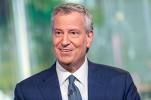 By JUANA NORALES
Mayor Bill de Blasio announced on Thursday the full reopening of New York City on July 1, including all the venues of normal life as the Covid-19 pandemic seemed to be on the wane.
"What you have done everyday, New Yorkers, what you have done is the reason I can make this announcement today because you've gone out, you've gotten vaccinated,' said the mayor at his daily press briefing, listing places and services to return to normal such as  restaurants, stores, gyms, hair salons, arenas, stadiums, theaters and music halls, and offices, among all the others.
The mayor cited  the big drop in infections as another reason for optimism.
"Percentage of people testing positive citywide for Covid-19, today's report on a 7-day rolling average 3.18 percent and declining and I will say keep it declining," added de Blasio.
He urged people to get vaccinated if they haven't done so.
The mayor  also announced a program of universal mental health checks for school children starting in September.
"Today we're gonna take a big step forward towards a more universal approach to serving those with mental health challenges," by providing mental health screenings for the children at vaccination sites and at "every single school."
ins at vaccination sites.
Replying to a news reporter's questions de Blasio also weighed in on the recent sexual accusations made against mayoral candidate and City Comptroller Scott Stringer.
"We need the facts, we need the investigation immediately," said the mayor.
Political lobbyist Jean Kim who formerly worked on a 2001 campaign for Stringer has accused him of sexually assaulting her 20 years ago saying that he "repeatedly groped and kissed her."
At a press conference on Wednesday Stringer denied the allegations. "This isn't me. I didn't do this," he insisted.