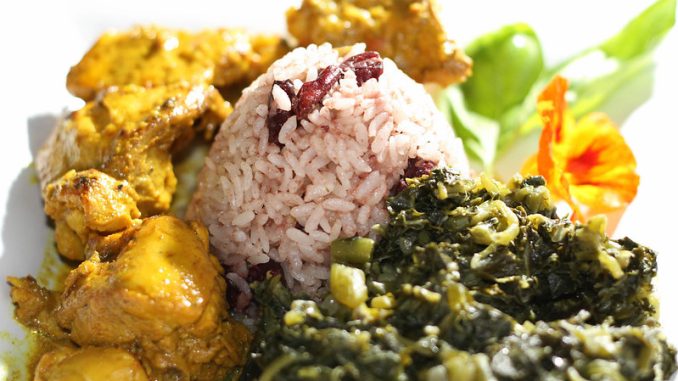 By: ENRICO DENARD
People from Afro-Caribbean backgrounds who immigrate to the U.S. are at risk of to being diagnosed with hypertension, diabetes, and obesity. While some residents say the price points and the oversaturation of fast food options like McDonald's, Burger King, and shops like Texas Chicken and Burgers in minority neighborhoods point to where this trend comes from, nutritionists say the narrative is much more complicated.
Black Caribbean immigrants make up roughly half of East Flatbush's population, where there are higher rates of hypertension (36%), diabetes (15%), and childhood obesity (22%) than New York City as a whole.  Many of the immigrants hold on to the belief that fast-food restaurants are driving the high percentages of food-relates diseases in the neighborhood.
Tony's Health Food, a Guyanese and family-owned health food store opened in the Little Caribbean neighborhood in East Flatbush, because this part of Flatbush did not have stores that sold nutritious and organic products back in 1997.
Danrodge is the son of Tony, the owner, who helped the mom-and-pop store to push more nutritional foods like beetroot and sea moss over the counter.  "We didn't see many healthy foods in this neighborhood, so we wanted to help bring back the herbs, the bush medicines, rooibos [a red herb for tea], all those types of old-school stuff from the Caribbean," he said.
"People that buy from the store are not everyday food shoppers in Flatbush," said Danrodge, who describes the customers as serious dieters.
Even so, Danrodge is attracted by the unhealthier foods that surround Tony's Health Food himself.
"Maybe I'll get Chinese once every two weeks, but for me, I mostly eat at home and cook my food," he said, "It tastes good and makes you feel good, but I know I must cook my own food.
Still, some question how healthy the Caribbean food shops and restaurants are that the East Flatbush immigrant population order from, which are comparable to the food cooked in many West Indian households.
Starch is the largest component of West Indian dietary habits. Rice, potato, and cocoyam are boiled or cooked in slow-simmering pots. Other foods like long beans [borra], eggplant, callaloo, and cabbage, are common in the West Indian diet as well.
At Ital Fusion, locals lineup to purchase vegan food aligned with Rastafarian dietary practices, what they believe is a detox from the fast-food meals they typically eat. Sarah, the cashier says the most frequently purchased meals are their zucchini, sweet plantains, curried chickpeas, and vegetarian lasagna.
The long lines and the cultural foods served at Ital Fusion raises the question about the impact of authentic Caribbean food on the poor health charts of East Flatbush residents.
Does eating this kind of Caribbean meals—either in a restaurant or at home—lead to obesity, diabetes and hypertension? Brooklyn College Assistant Professor of Health and Nutritional Science Margrethe Horlyck-Romanovsky said that is too simplistic. "There are many external factors that may be driving the increased risk of obesity. The focus on individual culpability is misguided," she said.
She went on to say, "The food environment is one factor that contributes to chronic disease risk, but we [nutrition researchers] do not actually have good data on how people interact with their food environments."
A recent Foodscape report showed that 25% of East Flatbush residents consume no fruits or vegetables in a day, which is the highest rate of unhealthy eating in any neighborhood tracked by the United Hospital Fund. However, more than half (53%) of residents live within a five-minute walk to fresh produce, compared to 49% city-wide.
Professor Horlyck-Romanovsky explains by saying, "People are eating to cope with a lot of the stressors that are in their lives: financial stress, occupational stress, working multiple jobs, poor sleep quality, navigating transnational families, and financially supporting family members in their home countries. In addition, things like air pollution, noise pollution, poor housing quality, and traffic congestion are external factors that increase the risk of chronic disease."
Researchers so far have not zeroed in on how the food ecosystem in Flatbush works to affect public health.  While the over-abundance of fast-food options superficially explains why there are higher rates of obesity, diabetes, and hypertension come in East Flatbush, the reasons are not completely clear.
Michaelle Joseph, a Haitian local, said, "I don't exercise because my energy is drained, so if I ate the food from Chinese, McDonald, and Burger King my health would be in serious danger." She says she would rather invest her energy into making home-cooked meals than wager her health on fast foods.
Bodegas, which sells more of processed food, outnumber supermarkets 21 to one in East Flatbush, and Joseph has to deal with other external factors, even as she is adamant about steering clear of chronic diseases.
Michelle Edward, the Jamaican manager for Fisherman's Cove, a popular Jamaican-food chain in Brooklyn said, "Sometimes the price for fast foods, when you get the burger, the fries, and the drinks adds up to be more than Jamaican food, but I guess some people just grow attached to it."