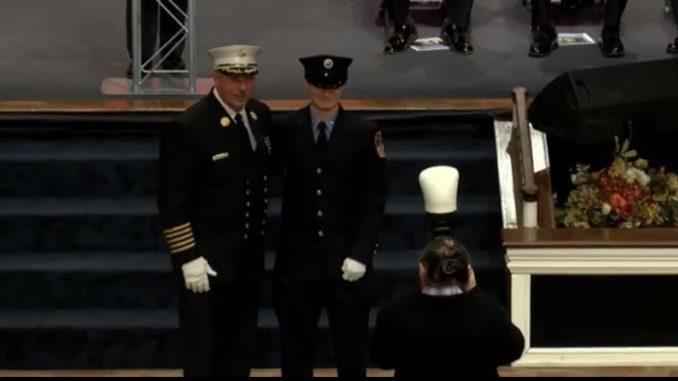 By ZHAYRON NELSON
The Christian Cultural Center in Brooklyn hosted the graduation ceremony for the next group of New York City paramedics. The church, located on Flatlands Avenue, on Thursday welcomed many attendees, mostly family members of the 170 of graduates. The new crew of paramedics are now part of the New York City Fire Department. They are often referred to as EMT's or Emergency Medical Technicians.
Guests were in pews, while the paramedics were seated in front, facing the stage. The ceremony was presided over by New York Fire Commissioner Daniel Nigro.
The ceremony began with the national anthem and the presentation of the colors by the color guard of the New York City Fire Department (FDNY).  That was followed by an invocation and then a video presentation that showed daily routines of those in the FDNY.
The Commissioner introduced several officials in attendance, among them included Chief of the Department Thomas Richardson and First Deputy Commissioner Laura Kavanaugh.
Commissioner Kavanaugh addressed the graduates. She said she understood the graduates had gone through a long process of training, over the past nine months. She said their training prepped them for the future.
She gave respect to the family members and friends who had supported the new paramedics. The building lit up with loud cheers as the graduates smiled and otherwise showed their appreciation to their loved ones.
The Commissioner also stressed how much the new workers were needed during this time of the continuing COVID-19 pandemic.
Thomas Richardson followed Kavanaugh. He explained to the crowd that it was a big deal to have completed training to work in one of the busiest emergency services in the world.
Among the highlights of his speech was advice to the graduating class: "Continue to challenge yourself personally and professionally. Get involved in projects for the department. You'll be glad you did it."
The next speaker was Chief of EMS (Emergency Medical Service) operations Lillian Bonsenior, who told the graduates she saw their growth way back nine months ago, when they first took their seats in classrooms to begin training.
Paramedic Daniel Millner was selected as the academic achiever of his class and was called to the front of the stage by Commissioner Nigro.
The rest of the graduates followed him, shaking hands and posing for a picture with Chief Richardson and Commissioner Kavanaugh.