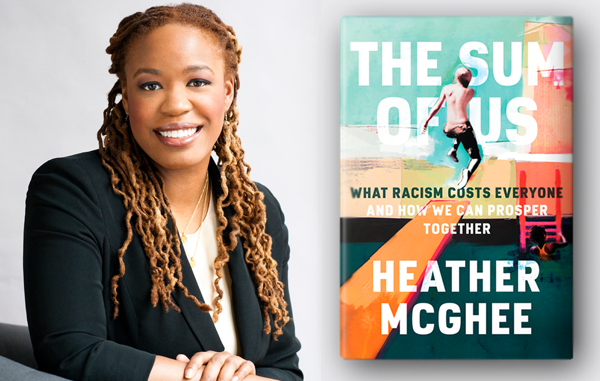 By BILLY WOOD
"Whites increasingly see racism as a zero-sum game that they are losing," said Heather McGhee a newly appointed lecturer at The City University of New York's (CUNY) School of Labor and Urban Studies.
McGhee was discussing her book "The Sum of Us: What Racism Costs Everyone and How We Can Prosper Together" on Zoom with Deepak Bhargava as he was welcoming her to the program.
"I quit my job in 2017 and set off across the country. I went from California to Mississippi to Maine and back again multiple times," McGhee said on her journey to writing this book. Throughout her travels she had one question. She wanted to know why we all can't have "nice things."
No, she isn't talking about self-driving cars or Gucci bags. She is talking about public swimming pools, subsidized higher education, universal childcare, affordable healthcare, and paid family leave.
McGhee refers to zero-sum and how white supremacy deprives people of "nice things." The people that are deprived include white people as well as people of color. She mentions a story about a pool in Montgomery, Ala. When white Americans were told that they would have to integrate the pool they decided to drain and cement it. Nobody, white or black, has been able to enjoy it since they closed it down in 1959.
McGhee also mentioned wages. She questions why someone should survive on $7.25, where someone else is making 1000 times more. "An average worker would have to work 1,000 years to make what the CEO makes in a year," McGhee said. She pointed out that when everyone gets together they can demand justice. That happened recently with the Fight for $15 movement when fast-food workers supported each other to raise minimum wage to $15 an hour in the country.
McGhee's book was released in Feb. 2021 and has spent 10 weeks on The New York Times best seller. It was also long listed for the National Book Award and the Carnegie Medal for excellence in non-fiction.
McGhee is a lecturer at the School of Labor and Urban Studies in her first semester. The CUNY school has been a leader in adult and worker education for over 30 years. It started with 52 students and now has more than 1,200 adult and traditional aged students enrolled in undergraduate and graduate programs.