By INEZ SHARABY
It was a breezy fall night in September when 20-year-old Lorraine Dana was walking to her older sister's house, ready to enjoy a Jewish new year's meal with those she loves. She was appreciating the beautiful weather as she waited to cross the street on the corner of Ocean Parkway and Avenue O in Brooklyn when a man in a car stopped, rolled down his window, and began cursing at her.
"Go back to Israel you low-life Jew. Go back to Israel so that Hamas can destroy every last one of you pigs!"  Dana said the man, who wore a turban, yelled at her.
Scared and alone, she crossed quickly only to find that the car was following her.
"Because it was Rosh Hashanah I didn't have my phone on me," she said. "I couldn't call the police or anyone for help. I was shaking. It was dark and there weren't many cars on the street at the time. I was scared for my life."
Dana realized the smart thing to do would be to run down a one-way street since the man in his car would not be able to follow her there. She ran as fast as she could, hid behind a car and watched as the man made a U-turn. Before he drove off the man yelled, "You will get it one day! Every last one of you!"
Over the past year, the intensifying Israeli-Palestinian conflict  in the Middle East has led to more such vitriol on the streets of Brooklyn and other places around the world where Jews and Muslims mingle. The discovery that three Israeli teens were abducted and murdered by members of Hamas; the rockets Hamas fired into Israel from Gaza; the invasion of Gaza that Israel launched in response: All these events sharpened emotions. Anti-Semitic crimes in New York increased sharply, as did bias crimes aimed at Muslims.
Anti-Semitism is a word that describes hostility towards the Jewish people. It was coined by Wilhelm Marr in Berlin in 1879. "Marr invented this word when he was an unemployed journalist," said Robert Shapiro, a professor of Judaic Studies at Brooklyn College. "He wanted to make a name for opposing Jews, hating Jews, and accusing Jews for all kinds of terrible things but not on a religious basis. So, he decided it should be racist. Since Jews by definition are not `white'–they're Semites–anything the Jewish people were involved in was considered 'Semitic.'"
Nearly two-thirds of the  the anti-religious hate crimes reported nationally are against Jews, according to the FBI data for 2012, the most recent year available. In New York,  the  Police Department reports that hate crimes against Jewish people increased as of Sept. 17 from 64 to 89 over the previous year, and from 7 to 17 for Muslims. Assaults against Jews more than doubled from three to eight, and assaults against Muslims shot up from one to six.
According to a study by the Jewish Community Relations Council, as of Sept. 18, 40 percent of all reported hate crimes in the city were anti-Semitic. The study, based on police data, noted that anti-Muslim attacks rose dramatically in 2014, which coincides with ISIS becoming a major news story during July and August. Anti-Muslim incidents made up 8 percent of the reported hate crimes as of Sept. 18. and had increased 143 percent over the previous year. Overall, police counted 17 percent more hate crimes citywide than for the same period in 2013.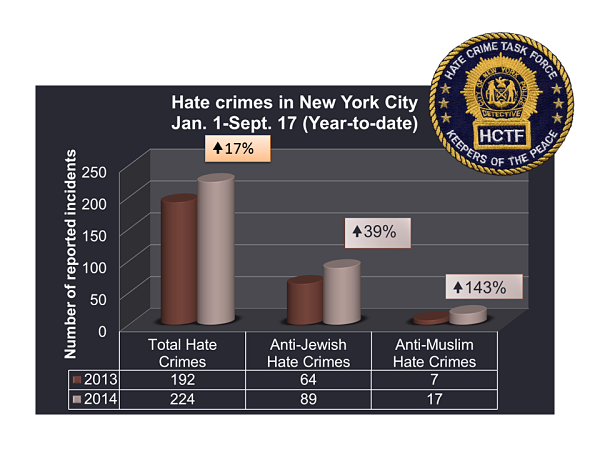 The Islamic Center of Bay Ridge in Brooklyn was attacked twice during a July weekend. On Friday, July 18, eggs were thrown at elderly worshipers from a group riding by in a car near the mosque. The people of the mosque were attacked again on Sunday when a group of cars displaying Israeli flags circled the mosque as the passengers yelled anti-Islamic slurs.
Police detectives probed anti-Muslim attacks that targeted several mosques, leaving them defaced with slurs.
Similarly in August, as the tensions were high and getting higher in the Middle East, there was an incident that occurred on the streets of Manhattan. Several cars  displaying Palestinian flags were stuck in traffic on 63rd Street  when the people inside the vehicles noticed a man wearing a yarmulke and a woman sitting beside him. At this moment, some anti-Semitic remarks were yelled at the couple. Eventually, one of the men threw a water bottle at the Jewish woman, while another man got out of his car and punched the Jewish man in the side of his head, witnesses told the police.
In late October and early November, Jewish people became the central victims of the "knockout" game,  the name for assaults in which an assailant attempts to knock out an unsuspecting victim, often with a single sucker punch, all for the amusement of the attacker and accomplices.
A 34-year-old Jewish mother of two, who asked not to be identified, said she experienced this on a shopping trip to Brooklyn's Kings Plaza Mall in October.
Returning to her car  in the mall parking lot, she was confronted by three teenagers.
"Out of nowhere these three boys started yelling out racist comments," she said. "I was the only one around so I knew these anti-Jewish comments were meant for me. They were using such vulgar language it made me turn my head around to see who these people were."
The woman said that she didn't know how they knew she was a Jewish woman or why they were screaming at her that way. "I am a trainer and since I came straight from work, I was wearing sweatpants, my leather jacket and my favorite big scarf. I had nothing of value on me," she said. "I wasn't even carrying my bag. I didn't know why they wanted to start with."
She opened the door to the parking lot and started heading for her car when she noticed it got very silent.
"It was so quiet you would have been able to hear a pin drop. At that moment I knew something was wrong," she said. "I looked in back of me and I saw those boys were gone, but still something didn't feel right. I thought to myself, if my intuition is correct and these boys are following me and are ready to attack, if I lead them to my car, that's it I'm automatically done for."
She decided the best thing to do was for her to turn around, head back into the mall, and get a security guard to walk her to her car. At the instant she turned around, she was punched so hard in the face that she was knocked to the ground.
"I had a laceration in my head, a broken nose and bruised ribs. When I got back up, I'm not sure how long I was knocked out for, I couldn't think, the world was spinning," the woman said. "I looked around to see if those boys were still there but they weren't. Could their purpose really have been just to punch me in the face and leave?"
Since she was one of the first victims of these attacks, there was no explanation for what had happened that day. She went to the 63rd Precinct to file a report. The police took her back to the place where she had been attacked.
"Just arriving at the mall was giving me a panic attack," she said. "I didn't think I could do it and the police couldn't make any sense out of what had happened to me."
After a few minutes of standing in the spot where she had been knocked out, she began to have a panic attack and had to leave immediately. The woman went through a voice recognition lineup the following week, but to her dismay, had no luck. She was told that there would be cameras added to the parking lot, to ensure customer safety but it has been confirmed by the mall that no cameras have been added.
"I cannot sleep, I cannot go into parking lots, and I have short term memory loss. I have been a physical trainer for many years but now when I teach my classes I need to do it with the book open. Something I never had to do before," the woman said. " When my students tell me certain things I tell them, 'You're going to have to remind me again soon because I'm going to forget.' They think I'm joking with them, and truth is, I wish I was, but I am not. It's a very difficult thing to live with."
The woman was not the last victim of this cruel "game." Two weeks later, seven Jewish people in Crown Heights became victims of it. The victims' ages varied; one was a 12-year-old boy. After this boy was knocked unconscious and pushed across the sidewalk, "the two attackers ran back to their group and yelled 'We got him!' and received a roaring cheer," said the executive director of the Jewish Future Alliance, Rabbi Yaacov Behrman. "These knockouts were not provoked and nothing was taken from the victims. We are extremely disappointed that no arrests have been made in any of these seven incidents."
One week after this incident, another occurred. This time the attacker, Amrit Marajh, 28, was caught and charged with a hate crime  after he allegedly knocked out a 24-year-old Orthodox Jewish man.
Assemblyman Jim Tedisco (R-Glenville) proposed a bill that would classify the knockout game attacks as gang assaults, and would require that youths who participate in such attacks be tried as adults, facing prison terms of up to 25 years.
"These twisted and cowardly thugs are preying on innocent bystanders and they don't care if the victims are young, old, a man or woman," Tedisco said when he announced the bill. "Life isn't a video game. These are real people whose lives are not only being put in jeopardy but in many cases destroyed."
Among these violent acts of Jewish hate crimes, other forms of anti-Semitism took place as well. Last May, a former police officer, Michael Setiawan, was charged with an anti-Semitic hate crime. The ex-officer was accused of putting vulgar graffiti messages throughout Borough Park, home to a large Orthodox Jewish community. Setiawan allegedly sprayed swastikas and hate-filled words on the walls of a Jewish school, three other buildings and 15 cars.
Another incident similar to this one occurred to 35-year-old Rini Braha. This past spring Braha woke up one Thursday morning and was ready to drive her kids to school when she discovered that the driver's side of her car was keyed with swastikas. She called the police and Shomrim, a safety patrol in the Jewish community, to report this case.
"You hear about this in the news and you read about these cases in the newspapers but you never think it can happen to you. I felt violated. My car was parked in my driveway, which means that in order to get to my car whoever did this trespassed onto my property," she said. "My biggest concern was my four children I had inside."
Shomrim stayed outside Braha's house for a month to make sure whoever keyed her car would not come back to do anymore damage. They wanted Braha and her children to feel safe again within the confines of their own home.
Braha said this happened around the same time a swastika was spray painted onto the walls one of the community's synagogues.
The Jewish people called for protection from these acts of hatred. On Sept. 18, a group of 25 city and state lawmakers and Jewish community leaders urged the de Blasio administration to take stronger action to prevent rising anti-Semitic attacks against the Jewish community and to punish the perpetrators. They spoke at a rally held on the steps of City Hall, where they released police data on hate crimes.
Among these leaders were state Sen. Daniel Squadron (D-Brooklyn Heights), Michael Miller from the Jewish Community Relations Council, Jeff Leb from the Orthodox Union, Comptroller Scott Stringer, Council Speaker Melissa Mark-Viverito (D-Manhattan) and Council members David Greenfield, Mark Treyger,  Stephen Levin and Jumaane Williams, all Brooklyn Democrats.
Tempers continued to flare. On Oct. 7, the head of the Brooklyn Young Men's Hebrew Association was viciously attacked outside the Barclays Center after a game and celebration honoring the Israel Defense Forces. Leonard Petlakh, 42, was inside the arena with his children and friends for the Nets vs. Maccabi Tel Aviv basketball game, when a group tried to disrupt the event by unfurling the Palestinian flag. Nerdeen Kiswani, the Muslim Hunter College student who was holding the flag, asserted that she was punched in the stomach and that her flag was taken away. A video of the incident shows a man snatch the flag and Kiswani say, "He punched me in the stomach." But no punch is apparent in the video. Petlakh touted the video as proof that he was not involved in the flag-snatching and that the supposed assault on Kiswani didn't happen.
Ultimately, security kicked both groups out, and the face-off continued outside, according to police. As Petlakh was walking out with his children, video captured several protesters shouting, "Free Palestine," and "Your people are murderers." This is when police say Shawn Schraeder allegedly punched Petlakh, who was taken to New York Methodist Hospital in Park Slope for treatment of a broken nose and eight stitches for cuts beneath his eye. Schraeder was charged with  assault and harassment.
Faced with the rising number of hate crimes against Jewish and Muslim New Yorkers, Public Advocate Letitia James announced the creation of a task force to investigate the problem further. Comprised of leaders from the Jewish, Muslim, and other faith communities, it will aim to make short term and long-term policy recommendations to prevent hate crimes in New York, especially those targeting the Jewish and Muslim communities.
"Our city belongs to all New Yorkers regardless of which religion they adhere to or whether they affiliate with any religion at all," James said when she created the task force on Sept. 23. "We stand united in supporting every community in New York and creating a climate that fosters acceptance. The Public Advocate's Taskforce on Hate Crimes will examine and advance specific action items to address the rise in hate crimes against Muslim and Jewish New Yorkers."
James said, "New Yorkers will rise above and come together as we always do."
Photo, top: Rini Braha's car was defaced with swastikas, one of a growing number of anti-Semitic crimes in Brooklyn this year.