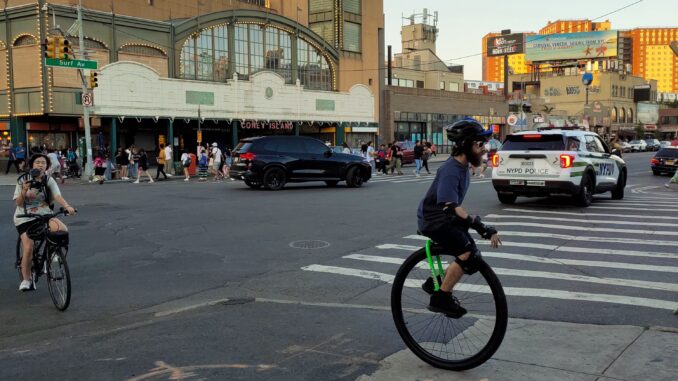 BY JOSH NARISMA
Luna Park goers were startled to discover a flock of unicyclists cruising down Surf
Avenue on September 1st. The riders, all dedicated members of the NYC Unicycle Festival,
weaved their way hands-free around Coney Island. The festival drew a relatively small number
of participants and was approximately 13 miles along, starting on the Manhattan side of the
Brooklyn Bridge.
The festival, also called Unifest, spanned four days and began on August 31st, which
involved a long distance ride along the Hudson River. It is produced by Bindlestiff Family Cirkus
and brings together riders of all abilities. Unifest has the distinction of being the only such
festival in the city, and has been running for 14 years now. Attendants range from casual
hobbyists to extreme sports players to circus performers.
Nicole, who declined to give her surname, was one of the first riders to arrive. She said
she's been unicycling for five years. "I started with bicycling," she explained, "but my dad taught
me [unicycling]. He's been unicycling his whole life pretty much. He learned when he was, I
think, 10 years old, then took a 40 year break and restarted in his fifties." To Nicole and her dad,
unicycling is a way of bonding.
Along with the other unicyclists, they started outside the City Hall, made their way across
the Brooklyn Bridge, and took breaks at places such as Prospect Park. From there, they came
down Ocean Parkway towards Coney Island. The ride lasted from 3 pm to 7 pm, ending exactly
at sunset. Upon arrival, the unicyclists dropped their vehicles into a pile and immediately sought
refreshments from the surrounding establishments, including the popular hotdog restaurant,
Nathan's Famous.
"It's exhausting," Nicole said, "especially with a smaller tire". She explained that this is
because smaller tires require more pedaling over longer distances.
Pat, who has 20 years of unicycling experience, came with his mother Peggy, who has
even more years under her belt: "I'm proud to say 55!". Like Nicole's father, Peggy started
learning when she was 10.
Sitting with them outside of Nathan's Famous was Jerry, who stated unicycling is "a
delight every time". For this festival, Jerry rode a 29 inch tire, "which is kinda the middle ground
between 36, which is the biggest, [and] 20" (typically the smallest for an adult).
According to Unicycle.com (where Nicole bought her own unicycle), beginners may
prefer 20 to 24 inch tires, however they can go as low as 16 inches. Tires in the 32 inch to 36
inch range allow riders to move faster across longer distances, but are harder to control.
Pat also used a 29 inch tire, but stated: "This is my first day riding [at the festival]. I've
never gotten over a mile." Peggy convinced him to join only the night before.
"She gets the cool mom award," Jerry said with a laugh.
The remaining two days of Unifest were dedicated to interactive activities. On September
2nd, the organization hosted games, relay races, and learn-to-ride activities at Cunningham
Park, Queens, while on September 3rd, they held a club meeting at Grant's Tomb in Manhattan.
The Bindlestiff Family Cirkus will likely host the festival again next year, and are continually
seeking more sponsors and volunteers.