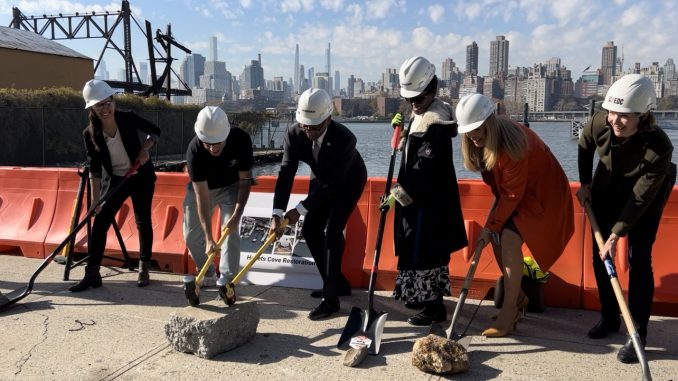 By PAMELA TUWAIDAN
On Thursday, Queens Borough President Donovan Richards celebrated the beginning of the restoration of the damaged old Hallets Cove, with plans to create a new enhanced environment where nature and people will thrive and begin to live life to the fullest.
Richards expressed his gratitude for the many people who helped build the project.  "Now with billions of dollars of funding we're ready to finally get to work. I'd like to also give a huge shout out to NYC Economic Development Corporation for its support and we thank our community for it…"
Richards went on to thank some of those present on Thursday, such as Florence Koulouris, District Manager of Community Board 1; Tiffany Caban, councilmember-elect for City Council District 22; Costa Constantinides, former city councilmember for District 22); and Claudia Coger, president of the Astoria Houses Tenants Association.
"To all our neighbors down at the Astoria housing and across this community, Miss Coger, this is your day. We thank you." said Richards.
After Richards then introduced the next speaker, Elizabeth T. Arnaiz, executive vice president, capital division of the NYC Economic Development Corporation.
"It is amazing to finally be here… me and the EDC are proud to be overseeing the demolition to help revitalize this section of the waterfront," Araniz said.
"I'm so glad to be here today. This is a day of celebration, this is a day of renewal, this is a day where finally the residents of the Astoria Houses have a waterfront that is worthy of them," Constantinides said.
"When I first took office back in 2014," Constantinides continued, "(Astoria Houses Tenants Association President) Coger walked me over here and showed me the radio tower, that's been here for 50-plus years. It had fallen . . . and it was allowed (to) decay in this cove for fifty years, with no one doing any sort of remediation.
"She took me by the hand and said 'Costa, this has to get cleaned up. Everytime we look at this, it's a symbol of disrespect. We have to make sure that this body of water is worthy of our family. Every family in those windows, they are able to see out their windows . . .'"
Incoming city councilmember Caban said, "This project is a move in the right direction."
After all the speakers had spoken, Richards and all others broke the concrete, signifying the start of a new beginning in Hallets Cove.