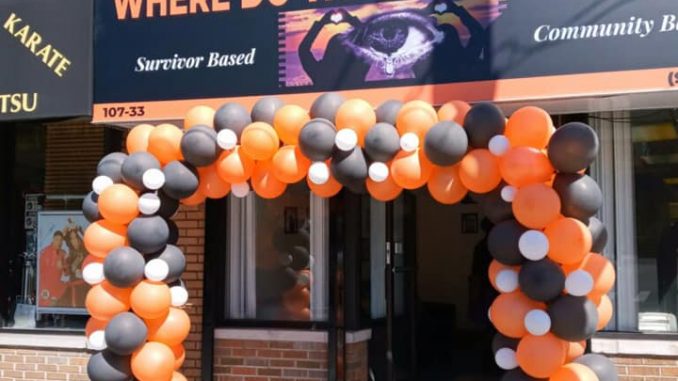 By PAMELA TUWAIDAN
 Gun violence is an issue that America has yet to solve, but with the help of The Gun Violence Memorial Project the cries of gun violence victims are being turned into voices to solve the problem.
The Gun Violence Memorial Project is coordinated by a number of organizations, such as Everytown for Gun Safety, MASS Group (Model of Architecture Serving Society), Purpose Over Pain, and others.
An event was being held on Thursday in Queens, at Where Do We Go From Here Inc., 107-33 Sutphin Blvd., Jamaica, NY 11435, in the evening.
Other events were to take place in Brooklyn and the Bronx from Friday through Sunday. The locations are on the group's website (https://www.gunviolencememorialproject.org/about).
At the "object collection" event in Queens on Thursday, families that were impacted by gun violence contributed objects to a memorial, honoring those whose lives were taken away by gun violence.
Marie Delus, who was hosting the Queens event, lost her nephew, Pierre-Paul Jean-Paul Jr., due to gun violence on Nov. 11, 2008. Thursday marked her thirteenth anniversary of his passing.
"Gun violence has always been in my life one way or the other. I just want it to stop," Delus said in a telephone interview with Brooklyn News Service.
"I work very hard, and I currently work with other fellow survivors . . . We just want to advocate for stopping the killing of each other with guns and trying to save lives."
She added that commemorations of victims of gun violence are healing for the whole community. "It's important for people to attend (gun violence commemorations) . . . because it's important to the survivors and the organizations, because by being a part of (a commemoration) event, it helps keep our loved ones alive in some way."
Delus told Brooklyn News Service: "When contributing precious memorabilia (and) photos, (the family members) show the impact of gun violence and that gun violence is real. These are real people, human beings who were lost. It's important people come . . . from other communities (to commemorate) . . . and see that loss and see the significance of the damage that is happening in our society. Because gun violence is a public health issue. It's damaging our society."
"It's a very emotional project, it benefits society as a whole just to see that real people lost their lives."
Delus is a part of a board under the office of the Mayor of the City of New York called The Gun Violence Survivors Advisory Council.
Delus concluded her interview saying: "My advice to the community as a whole is that we have to stop gun violence. It's a public health issue. It's terrible we can't live our lives every day without fearing being shot at. There's a lot of times where people have said this is an impossible issue and that nothing is going to change, and I disagree. I think we all have to come together as a community and decide that we want to stop gun violence. We need to make it happen for your generation and our future generation."
Donations can be made at the Gun Violence Memorial Project website.