By JERMECIA EDWARDS
A few days after a Department of Environmental Protection inspector came to measure the noise level at Wayne Bailey's loft on Dean Street, he complained about it to a neighbor.
"No disrespect, but you have earplugs in your ears," Bailey, 56, said he told the inspector. Bailey, who works in commercialization of intellectual property and is an active member of Community Board 8, said the inspector didn't know what it was like to live down the block from the new Barclays Center.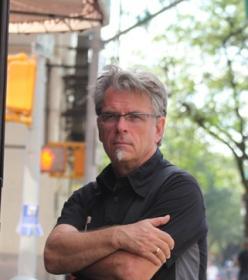 Bailey's complaint is just one of many criticisms aimed at the high-decibel sounds coming at night from the Barclays Center and related construction. Some nearby residents say that intense pounding, vibrations and crashing loud noises coming from the construction site at night make it difficult to sleep. At the same time, others say that the congestion and noise stemming from the  arena are far less severe than feared.
Still, it's taken some time to get used to having an 18,000-seat, $1 billion sports and entertainment center in the neighborhood.
"The rumbling and loud noise coming from the arena and construction feels like you're living on top of a train station," David Stevens, a 47-year-old school teacher, said as he pushed a shopping cart full of groceries to the same building on Dean Street.  "All the concerts from Jay-Z to Justin Beiber have been very bass-heavy and clearly audible in our building. I've lived here for 10 years and this arena has completely changed the character and the feel of the neighborhood. And it's just the beginning."
The Barclays Center is the first step in building Atlantic Yards, a 22-acre, $4.9 billion development planned to include 8 million square feet of apartments, offices and stores near Atlantic and Flatbush avenues. Slowed by the downturn in the economy, it is expected to take many years.
"I didn't move next to an arena, an arena moved into my neighborhood," Bailey said.
He began to break down the different elements of the Atlantic Yards project. "You have the railyard reconfiguration. They want to build all these high-rise buildings and housing. Then you have the arena, which is 247 feet and 6 inches from our building on Dean Street," he said. "The state overruled the zoning that said that you couldn't build anything like this within a thousand feet. Now how would you feel if you had an arena situated in your residential neighborhood?"
After three years of delays, many lawsuits, neighborhood protests and financial setbacks, the Forest City Ratner Cos. project received a key approval on December 20, 2006 from the three powers in state government at the time, Gov. George Pataki, Assembly Speaker Sheldon Silver and Senate majority leader Joseph Bruno.
Supporters of the project say that Barclays Center will bring economic growth, more tax revenue and more jobs for Brooklynites.
"Most of my friends were pretty pumped about getting a job at the Barclays Center," said Christopher Dow, a 19-year-old Brooklyn College student. "But it turns out that priority jobs are being given to underprivileged residents, depending on which street they live on.  I thought it was a cool way to give money back to the people supporting the project who live here."
The community benefits agreement promised that low- and moderate-income and public housing residents would get priority in available jobs. Forest City Ratner's deal with the city and state also pledged it to create 2,250 units of affordable housing, 10,000 permanent jobs, eight acres of open space and a mixed-use development with 15 high-rise buildings over the course of 25 years.
"The Empire State Development Corporation gave them 25 years to finish it, Now how would you like to live and deal with construction for over 25 years?" Bailey said. "There is a significant amount of noise coming from this hyper traffic during rush hour and at night. It's the rumbling of the trucks, the honking of horns because limos and black cars double park and screams from the concerts that make it so loud and chaotic that people can't sleep at night. And the economy is not where it's supposed to be for people to just get up and leave."
Yet many local residents say the Atlantic Yards project creates intangible benefits for the neighborhood. Supporters of the project say that it adds something new, fresh and different to the borough, especially since there was not much in the neighborhood five years ago.
"I have one friend that lives a block away and he was really excited about it because he's a huge NBA fan but grew up in a place with no NBA team," said Robert Pressley, a 28- year-old college student.  "And I remember him telling me that he's so glad his son has a team to root for."
In 2003, Ratner bought the New Jersey Nets  and then announced that he was moving the team to Brooklyn. This was the match that lit the flame and started the whole Atlantic Yards development. However, people continuously addressed their concerns about traffic, congestion and noise.
"I thought about the flow of traffic and how it is already crazy with the dollar cabs on Flatbush, so I knew it was going to get pretty hectic over here," Dow said.
Dow talked about his experience with overflowing traffic. "I was in a cab once and the guy was like it's going to take two hours before we get into Manhattan. It was pretty frustrating," he said. "I just didn't understand how people on these already packed streets of Brooklyn, would adapt to extra cars filled with fans searching for parking."
A traffic study by engineer Samuel I. Schwartz outlined ways  to limit the number of vehicles traveling and maximize the use of transit. It recommended  subway, rail and bus service enhancements, cutting on-site parking spaces in half, and coordinating remote parking facilities and shuttle buses on event days.
According to Schwartz, so far it has been a success. There has been a lack of gridlock and few have been using the arena's parking lot, located between Vanderbilt and Carlton avenues. It has 541 spaces and has been half empty, according to separate observations from reporter Norman Oder of Atlantic Yards Report.  Lately, a large portion of concert-goers have come and gone by subway or are choosing to park elsewhere.
Schwartz's plans were also made to reduce street congestion and attendant complications before, during and after events. However, after the Sounds of Reggae event at the Barclays Center, streets were still packed with concertgoers making a lot of noise. Some were drunk and talked loudly about the concert, while others were ready to have a part two to the concert by going to the nearest club. Concert-goers' voices were very loud after the show and one could see how it could negatively impact people in the community. Traffic flowed fairly well on the roads outside the Barclays Center. However, the biggest traffic concern seemed to be the crowds of people after this big event. Black cars, buses, and limousines were also visible idling on nearby streets before and during the concerts.
"You have buses, black cars and limos parking everywhere. The ESDC solution to that was enforcement. But instead of police enforcing serious police stuff, you got them chasing black cars. That's insane," Bailey said. "A bus was parked on Sixth Avenue illegally next to a hydrant for over an hour waiting to pick up the Notre Dame [basketball] players. This is a residential area – no vehicle is supposed to idle for more than three minutes in New York, so what makes it okay for them to do it." Sixth Avenue is located at the back of the Barclays arena.
Opponents of the Atlantic Yards project say in their website, AYCrimescene.com, that Atlantic Yards had failed to ensure promises of local jobs and affordable housing, which is what won approval for the project in the first place. In 2005, Forest City Ratner signed a   community benefits agreement that was meant to ease neighborhood concerns.
"BUILD is a program that was supposed to be a local community group to help unemployed black youth males find union jobs. However, none of those guys got anything out of it," Bailey said. "These guys came together and sued Ratner and his community benefit agreement and Forest City Ratner went back to fight it. But the judge wasn't having it and said this lawsuit is going forward," Bailey continued. "I hope those guys get something. But even if they get money out of it, they still didn't get what they really needed which was livable jobs."
"I feel like the owner knew what he was doing," Pressley said. "Like a politician he said what he had to say to get what he wanted, not caring if it disappointed people along the way."
Daniel Goldstein and members of his anti-Atlantic Yards group Develop Don't Destroy Brooklyn led the fight against Bruce Ratner's plan to demolish areas of their Prospect Heights neighborhood and build the Barclays Center.
"People were fighting hard to prevent it from coming here and they lost," said Barbara Owens, who  works at the Human Resources Administration office on Livingston Street.
Bailey said that the work of blogger Oder and others in the community had helped minimize some of the project's negative impact "We have been working on protecting our neighborhood before the project started," he said. "Our neighbors see what we've done and they appreciate it."
Some Brooklynites who once were apprehensive about the flow of loud and drunken fans pouring out of the arena  no longer feel that their safety and serenity are being jeopardized.
Adam Foster, a 32- year-old father of one  who lives a block and half away from the Barclays Center, said  the noise has not been that bad. "There is a little bit of noise every now and then but nothing serious that I can't deal with.  If my three- year- old daughter can sleep through it, then it is not that loud."
Overall, he said, "The positive about the Barclays Center outweighs the negative that was expected when it first opened."
Bailey said that to some extent, protesters succeeded by calling attention to possible problems. "We've been complaining about the sidewalks not being wide enough, parking issues and noise complaints," he said. "I feel like our voices have been heard to a certain extent, but it's still not perfect."
"The noise doesn't affect me at all.  I make music so I'm making a substantial amount of noise myself," Dow said.
Some residents who were once uneasy about the limited parking and the overcrowding  of streets in the neighborhood are presently surprised the arena  didn't have the destructive impact everybody presumed it would have.
"Who would have thought that bringing over 15,000 people here wouldn't increase congestion in the neighborhood. It's shocking," said Bruce Wallace, a public radio reporter who lives in the Prospect Heights area.  "My friends and I have been driving around here during the Jay-Z and Barbra Streisand concerts and didn't notice any crazy congestion at all."
When asked about the negative effects of parking, Wallace said "We still have pretty good parking on our street but I'm not going to tell you where that is."
Hakeem Jeffries, an Assembly member elected in November to Congress, said that conditions have not been bad in the surrounding communities as a result of the Barclays Center.  "Traffic is being managed pretty well because most people are taking public transportation instead of driving," he said.
Brooklynites in the surrounding area are starting to care less about the effects of Barclays Center and are more concerned about the Atlantic Yards project as a whole.
"I'm waiting to see if it will bring real jobs to Brooklyn," said Carey Thompson, a 28-year-old banker at TD Bank. "It might bring some minimum wage jobs but I want to see if the money will trickle down into the neighborhood."
Residents seem to be more focused on making sure the state is doing what it can to preserve the authenticity of the community long term.
"When I heard that people were being put out of their homes that they lived in for many years, I was upset," said Gloria Rollings, a 46-year-old electrical engineer. She said she feels like the Atlantic Yards project is about the developers of the project stacking up money. "It probably wasn't worth anything to Ratner and his friends, but to the person that was put out, it was worth a lot to them.
"I believe in people and I believe that in some cases, people who have money just try to push other people out so they can get their way to make more money," Rollings continued. "I don't like that at all."
Rollings also expresses concern about the planned housing not being so affordable.  "I feel like they will make the services twice as expensive that residents can't even afford to move in. But that's just my opinion," Rollings said. "But we'll wait and see; only time will tell."
"It's not over," Bailey said. "They are going to start building on B2, which is located on Flatbush and Dean.   There have already been dozens of 311 calls complaining about double parking, idling, clusters of bright lights illuminating people's apartments, noise lingering outside coming from jackhammers and persistent beeping of reversing vehicles.  Residents actually post videos and their complaints on the Atlantic Yards Watch Web site and their complaints are endless."
Owens commented:  "It's here to stay, so there is really nothing anyone can do about it but adjust."