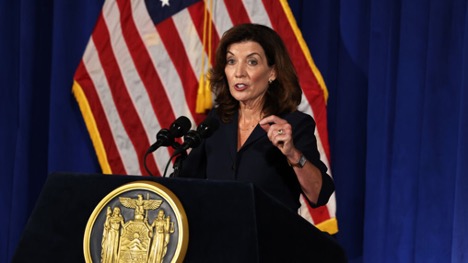 By JULIAN WATSON
On Thursday, New York State Governor Kathy Hochul held a press conference about Covid-19.
Hochul reported an emergency of Covid surges in Clinton, Essex and Franklin counties in upstate New York. Clinton has had a devastating 8,216 cases, with 51 deaths, and these numbers are slowly rising. Essex has had a total of 3,375 cases, and Franklin county reported a total of 6,002 cases.
This is happening amid the growing fear of the new Omicron variant.
"Millions of teenagers will now be eligible for extra shots and they should take them before the holidays," Hochul said.
"We have 20 confirmed cases in the state of New York of this new (Omicron) variant," Hochul said.
"(W)e expect these numbers to continue to rise."
Hochul added, "At this point we know it is community spread. It is not from people traveling. We are watching what is happening in other countries and it is spreading quickly. We are prepared for this and working very hard."
Dr. Mary Basset, New York State Health Commissioner, said, "We have over half of states reporting Omicron. It's been reported in more than 60 countries. I do want to stress that . . . our largest numbers are the delta variant . . . (W) e do not know if Omicron will out compete with Delta or not."
Hochul stressed that Delta is the stronger variant hospitalizing the majority of New Yorkers. She urged New Yorkers to continue wearing masks indoors, and to get vaccinated and to remain cautious and safe.