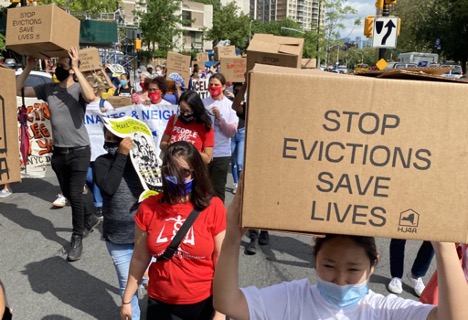 By JULIAN WATSON
New York States' eviction law protecting tenants is set to expire in January of 2022. This would put many thousands of renters at risk, especially with the state still slowly transitioning into a post pandemic world. With so many landlords attempting to force people out of their homes, especially with the job market turmoil making work difficult to procure, some legislators are fighting in Albany to ensure tenants will have long term safety from unjust evictions.
"Tenant organizers across the state say there's a dire and growing trend of landlords changing locks, shutting off utilities and taking other drastic measures to get tenants out – and court data shows that few of these landlords face legal consequences," said officials from Citizens Action of New York, in a statement.
On Thursday, City Hall was packed with tenant advocates and housing rights organizers, who are trying to pressure state legislators to initiate Good Cause Eviction in the upcoming legislative session.
The advocates are fighting and arguing there are already too many homeless people, including children, in New York.
Hudson and Albany are already protected by Good Cause Eviction Laws. However, the City of New York along with the rest of the state aren't, and if the law is not enacted by January 2022, it is estimated that tens of thousands more New Yorkers will be homeless. New York City residents face not only evictions but also huge rent increases. This hope-for new law would allow more families in New York to live safely without the fear of ending up homeless.
Good Cause Eviction strengthens tenants' rights to renew leases and overall adds to their legal protections.
"We are confronted with a housing crisis that has priced working people out of their homes or into poverty, and leaves tenants with the constant fear of an arbitrary eviction or a predatory rent increase," said Brahvan Ranga, a political coordinator at the housing rights group For the Many.
The Bronx makes up the borough with the largest percentile of eviction rates in New York City.
"The Bronx is the invisible borough that keeps the city running despite the fact we are the most neglected. Passing Good Cause tells Bronxites that their very lives are just as essential as their labor," said Bereket Ghebremedhin, chair of the NYC Housing and Economic Justice Committee at Citizen Action of New York.
The bill was being presented on Thursday by legislators.