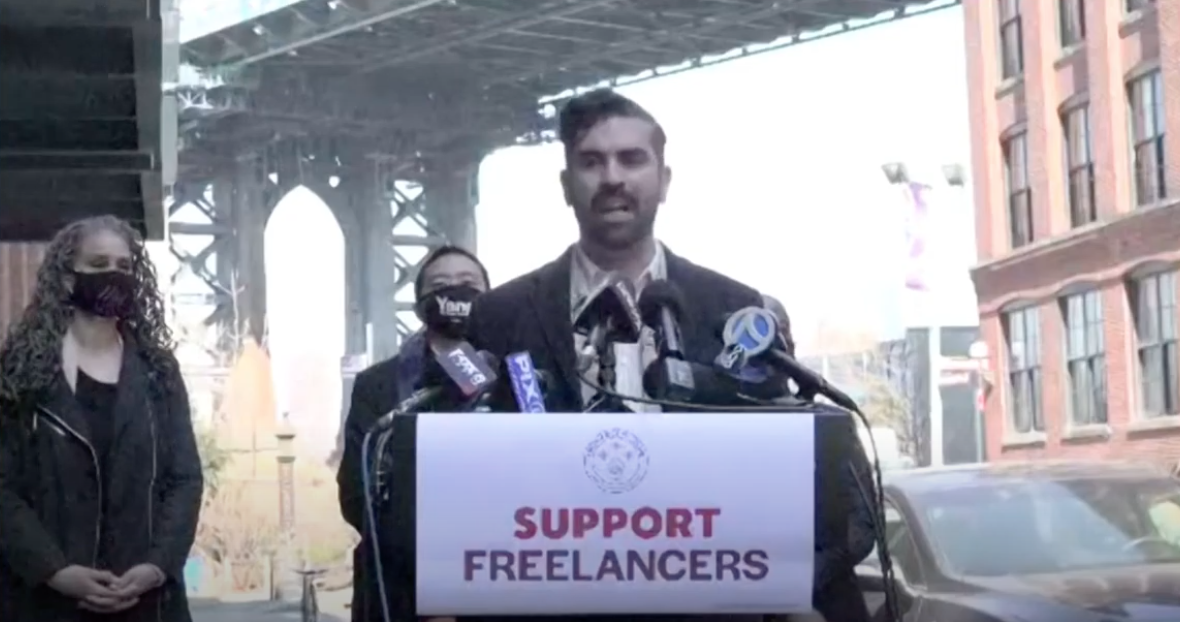 By MAYA SCHUBERT
The Freelancers Union took the unusual step of co-endorsing rival New York City mayoral candidates Maya Wiley and Andrew Yang on Thursday morning because the organization was split evenly in opinion on the two candidates.
"Andrew brings desperately needed new ideas, and a fresh perspective of how to build a support system for the city's workforce," said the union's executive director, former City Councilman Rafael Espinal at a joint press conference in Brooklyn. "Maya has a true understanding of the policy changes that are needed to ensure that freelancers have legal recourse for the issues they face."
Espinal added that Wiley and Yang were also the first in the mayoral race to reach out to the union, expressing a personal interest in the city's 1.3 million freelance workers, who make up over one third of the city's workforce. Yang said that his first job was freelancing, selling knives door to door. Wiley recalled that her mother quit her job and became a freelance worker after her father died.
"It was that freelance work that put food on our table and kept a roof over our heads," she said.
Both candidates voiced their belief in the struggles of freelance work, especially during the pandemic. Among other difficulties, freelancers face a higher risk of liability and higher tax obligations. In addition, freelancers do not normally qualify for unemployment, although the COVID-19 stimulus bill passed last March provided self-employed workers unemployment benefits, paid sick leave, and paycheck protection loans.
Yang promised freelancers greater benefits through the establishment of the first New York City portable benefits fund built through a small surcharge on certain fees. He also promised to open freelance "hubs" around the city, where workers could gather for workshops and employment opportunities and lower the time employers take to pay freelancers to 15 days from 30 days.
The candidates did not directly address each other in their speeches although the two shared a friendly elbow bump towards the beginning of the press conference and Yang expressed his admiration for the union's decision to co-endorse them.
"I applaud the freelancers union leadership in endorsing more than one candidate," he said. "The fact is, New York voters are going to be choosing more than one candidate for the first time in this race, and so if you're excited about more than one candidate, you should be able to express that when you go to the polls."
Over 30 candidates have joined the mayoral race. According to a WPIX-TV/NewsNation/Emerson College poll released on Mar. 8, Yang currently leads in the race, with 32% support of potential voters, while Wiley trails at 9%. New Yorkers can vote in the primaries on June 22.