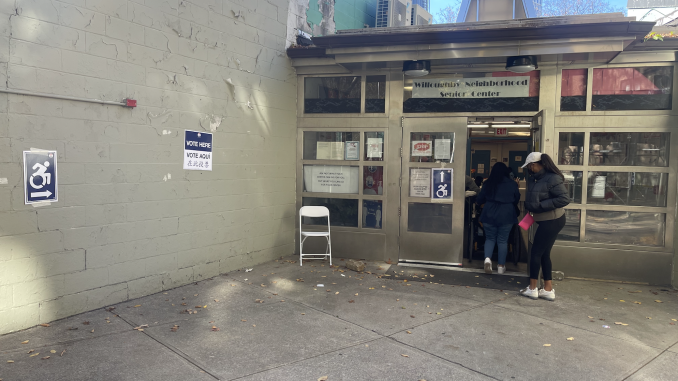 BY TANESHA THORPE
New York City voters came out to cast their ballots at over 14,000 polling stations across the five boroughs on Tuesday, Nov. 8th in the 2022 Midterm elections. 
Fort Greene's Willoughby Neighborhood Senior Center at 105 N Portland Ave. was one of the many polling stations. Polls opened at 6 a.m. and workers were there an hour earlier setting up and getting ready for the voters, according to Randy Bryant, Line Management Clerk at the site.
"We'll be here till 9 p.m. It's our community so they're going to show out, " said Bryant. 
The site had multiple translators, line workers, and many volunteers from the community. 
Workers at the site were very open about the importance of why they came out. Arnold Forbers, the Scanner Inspector, said he was there because it felt like his civic duty. 
Many voters said they felt it was necessary to vote, given the current political state of the country. 
"You can't complain about the things that go on in government and then not vote. Even if my vote barely matters, it's still there, " said Jason Thoorpe, a full-time student who has been living in the Fort Greene area for 19 years. 
The governor and other officials made stops in Brooklyn on Tuesday to give the last push for voters to come out. Fort Greene being one of those stops. Thoorpe came earlier in the morning.  
"The community will show out, it's only 10 a.m. Plus a lot of people voted early, we're the last-minute one's," Thoorpe said. 
Early voting was available during the week, and many people took advantage of that at this location.
"Today it's been mild. During the week it was more," Bryant said. 
He also expressed how important it was to vote. 
"No matter what side you're on, voters' rights are important. People's choices are important. Those liberties are needed," he said. 
While the turnout was presumed to pick up later in the afternoon, Ańgela Ruiz a Dominican hair stylist wanted to make sure to "beat that rush." 
"I'm voting for the person who will help housing and the little people like us and  I can't vote against women's right" to have control over their own bodies," Ruiz said. 
While we may not know if the governor's last campaign push in Brooklyn was what helped tip the scale, The NYC Board of Elections tweeted that Brooklyn had the largest turnout of all the boroughs by 6 p.m. on Tuesday.
"I just hope everyone casts their vote with the right head and right heart," said voter Janet Scott. 
The site stayed open until 9 p.m. and workers left happy with the overall turnout from the community.
"The way you come together for the difference makes the difference," Bryant said.