By KRYSTYNA CHICHURA
It's 10 o'clock in the morning and the local businesses in  the Atlantic Yards area are just starting to open the doors to their customers. Abe Fulani has been sitting at his desk in the Fulani Boutique at the corner of Fifth and Flatbush avenues since 8 a.m. He's been in business  for 21 years sewing and altering custom-made suits. And now, the opening of the new Barclays Center down the street is having a negative impact on his boutique.
It's not the lack of customers that he has a problem with – it's the rising price of rent that slowly but surely is pushing him out of business. He has to relocate because there is no chance he can sell enough suits to cover the frequent increases. "For a small business like me, I can't afford to pay $10,000 rent," Fulani said. "I just don't make that kind of money."
Rent is increasing but, on the plus side, fans arriving at the 18,000-seat arena for Brooklyn Nets basketball or concerts with world-class talent are willing to spend money in the nearby restaurants and bars and buy sports-related clothing. On the other hand, the crowds arriving from the transit hub beside the arena at Atlantic and Flatbush avenues have not brought customers interested in buying hardware, furniture or custom-made suits, local business owner say. And, with rents rising, they are being forced out.
Small and specialty businesses are closing; restaurants, bars, chain and upscale stores are growing. Storefronts are improved. "That's a sign of economic vitality, something that's good for the borough," said Joe DePlasco, spokesman for Forest City Ratner Companies, developer of Atlantic Yards.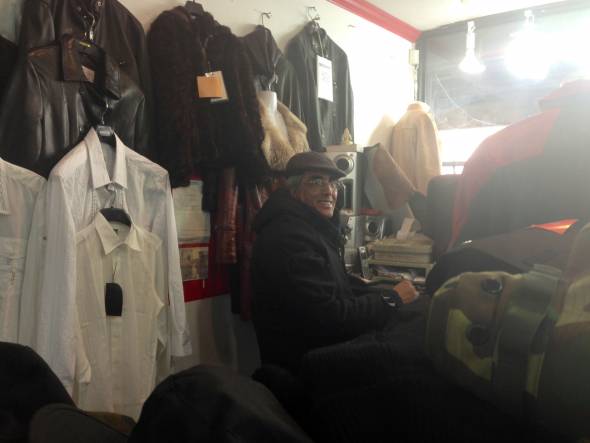 According to Citi Habitats, a real estate company, rents went up dramatically, reaching about $200 per square foot. Sury Muqherjee, the owner of the store Mondini, whict sells army clothes and backpacks at 160 Flatbush Avenue, on the corner of Flatbush Avenue and Pacific Street, a block away from the Barclays Center, said he will probably be forced to leave at the end of January because the rent will go up.
But he is pleased to be getting more customers in the meantime. Muqherjee said some of the business owners that he knows in the area had gotten notices already that they have to move out by Jan. 31. Some are trying to negotiate a new lease with the landlord but the cost is beyond their means, he said. Muqherjee finds the area safer, busier and cleaner with the coming of the Barclays Center. "Even just a few years ago not much business happened here," he said. "But now everyone is out on the streets."
Yagil Kadosh, on the other hand, is excited about the arrival of Barclays Center because it has brought increased foot traffic and more hungry people to his-fast food burger place, Kulushkät Falafel, located at Dean Street and Flatbush Avenue, after events. The main advantage he has over the other businesses is that he doesn't have to worry about the rent going up; Kadosh has a 10-year lease on the property. He said that the restaurant will be opened seven days a week (instead of six) and will stay open two hours later every night.
Andrea Alari, owner of the restaurant Va Beh, a very hip Italian place with minimal decorations, said it couldn't be better. The restaurant, at 446 Dean St. between Fifth and Flatbush avenues, will be opened as late and as long as it has the customers, he said.
Barclays Center has its own bars and restaurants but the State Liquor Authority on Aug. 29 ruled to allow the center to sell alcohol at its premium bars for an hour after events finish, or a cutoff of 1 a.m. That's why all the hungry and thirsty night-owl customers will go the local bars and restaurants outside of the Barclays Center.
Carlos Espinal, the manager of the "mom and pop" Latin restaurant El Viejo Yayo, located at 36 Fifth Ave. about two blocks from the arena, said that he has to make some adjustments to the business model, making the place more modern, hiring more people, extending the hours of operation, adding a few dishes to the menu (keeping the original Latin dishes on the menu as well). But all these changes and adjustments are "definitely worth it," he said. "Barclays Center will bring a lot of new customers to the neighborhood."
Though the manager of the Applebee's restaurant at DeKalb and Flatbush avenues declined to comment, employees said they expect a lot of traffic and they've been noticing that a lot of people have been hired at this time.
Chain stores like Modell's and Victoria's Secret are getting more customers and expect growth as more people come to the Atlantic Yards. According to the general manager at Modell's, Nicholas Chan, hiring at the Modell's store on Flatbush Avenue near the arena has increased since it was announced that the New Jersey Nets were coming to Brooklyn. "The store has been revamped completely and the products with the Brooklyn Nets logo is the best seller," Chan said.
Karrime Davis, who spends a few hours every day on the corner of Flatbush Avenue and Pacific Street distributing business cards to the passersby, welcomed the change the arena has brought. "If you can't survive the war, get out of Brooklyn," he said.
And for the retailers trying to survive and prosper in a rapidly changing neighborhood, it is a war. Barclays Center's presence will profit upscale and chain stores, restaurants and bars but will bring loss of profit to small and specialty businesses. Businesses are trying to adjust to the changes to survive.
Owners of some other stores, such as upscale clothing stores, are also excited about the change. Moussa Dia, who owns Versailles, a women's boutique at Flatbush Avenue and Dean Street, said he is very optimistic that the arena will change Brooklyn in a good way. A long-time retailer, he moved to Brooklyn from Manhattan 15 months ago and notices a change – more tourists and celebrities. "More customers – more money," he said.
Dia said stores are changing their exteriors, painting and updating the storefronts in the hopes of increasing customer traffic.
Owners of salons, spas and barbershops also expect Barclays Center to bring a lot of business even as some stores in the neighborhood close. For example, the stylist Antoinette Lopez at a hair salon on Bergen Street said that as a result of the arena, "mom and pop" stores are closing, there are more cars on the streets and fewer available parking spots. But, at the same time, she said, the salons hope to find new customers as more concerts are booked.
Smaller neighborhood business face difficulty. Carlos Figueroa, who works at an electronic and computer store on Flatbush Avenue, said that based on the customers he gets, most likely all small electronic stores will close and chain electronics stores will be opened. Rubin Levitan, who owns a furniture store across the street from the Barclays Center, on Pacific Street, said that he is trying to sell as much furniture as possible. "People who will come to the center are definitely not coming there for the home furnishing products but for entertainment purposes," Levitan said.
Monique LeBlant, manager at the GNC store at Flatbush and Lafayette avenues, said that the store is not as busy as usual at this time of the year. LeBlant said that people who prefer going to the store for their vitamins don't go there anymore because it is hard to find parking in the area. People who come to the Atlantic Yards for entertainment don't care much about buying vitamins. "People can buy them [vitamins] in their neighborhoods. They come for drinks and have some fun," said LeBlant.