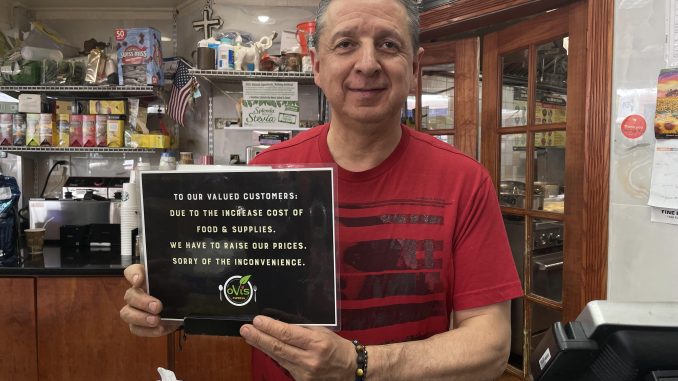 By: SAMIA AFSAR
Each morning, many thousands of New Yorkers start their day with a bagel with cream cheese and a large coffee to prepare for their busy working hours ahead. But that tradition is coming up against some new realities. High levels of inflation due to supply chain disruptions, labor shortages, the COVID-19 pandemic and Russia's invasion of Ukraine, are forcing local consumers to reevaluate their breakfasts to accommodate the growing increase in food prices.
"I can't spend over $4 on a bagel every morning," said 23-year-old Flatbush resident, Alexa Marie. "If I do, I'm worried I won't be able to afford to pay my bills," she added, with an anxious chuckle.
Similarly, 22-year-old student Fatima Assad is already beginning to wonder whether she should quit eating out altogether. "Lately, it seems like my entire paycheck is spent on food," she said. "I'm probably just going to start bringing food from home."
According to new data released by the U.S. Bureau of Labor Statistics, consumer prices grew by 8.5 percent nationally and 6.1 percent in the New York City Metropolitan Area in March 2022 compared to March of 2021. A report published last month by the New York State Comptroller, Thomas P. DiNapoli, Inflation in the New York City Metropolitan Area, stated, "For over a decade following the Great Recession of 2008, inflation remained low, generally under 2 percent; however, price increases began to accelerate in the spring of 2021 and are now growing at the highest annual rate in 30 years in the NYC metro area."
As a result, New York City restaurant owners are compelled to pass along the inflated costs of running their business to consumers, or risk losing their businesses due to insufficient funds.
The symbiotic relationship between business owners and patrons is especially crucial in a city such as New York, where the supply and demand is ever-growing, and as any relationship expert would counsel, the answer to most successful partnerships relies on practicing "communication is key."
Communication is certainly key to one local Flatbush deli, Ovi's Place, where 50-year-old owner Pablo Oviedo displayed a sign earlier this year apologizing to his customers for the increased food prices.
Oviedo explains the sign, which reads, "To our valued customers: due to the increased cost of food and supplies, we have to raise our prices. Sorry of the inconvenience," was put up in an effort to promote transparency.
"The sign is to make our customers understand that we aren't increasing prices because we want to be rich," said Oviedo. "We are increasing the prices because we want to stay in business."
Grocery prices were 7.9 percent higher in February of this year, according to the Consumer Index's most recent data, and are predicted to increase biweekly. Business owners, such as Oviedo, are pushed to alter what they charge to accommodate their costs.
"I'm a customer too," said Oviedo. "Every time I go to the market to buy [groceries and supplies] for the store, I notice the price has increased from last week. "How can I run a business if I spend more than I make?"
Conveniently located near the CUNY Brooklyn College campus at Flatbush Junction, a shopping area with several big box stores, such as Target, Ovi's Place is naturally a hub for peckish college students and shoppers who now worry whether the benefits of eating at home outweigh the cost of eating out.
"At first, a lot of people complained about the prices," said Oviedo. "They [students] complain and, unfortunately, don't come back."
But other patrons are mindful of the current inflationary era and vow to continue their regular eating habits despite the extra costs.
"If anything, it would probably cost more for me to buy groceries, that only last me about a week than it would for me to spend a few dollars more on a lunch special," said 32-year-old Brandon Cowell. "I don't mind the extra charge, it's a hard time for everyone right now, so I understand," he added.