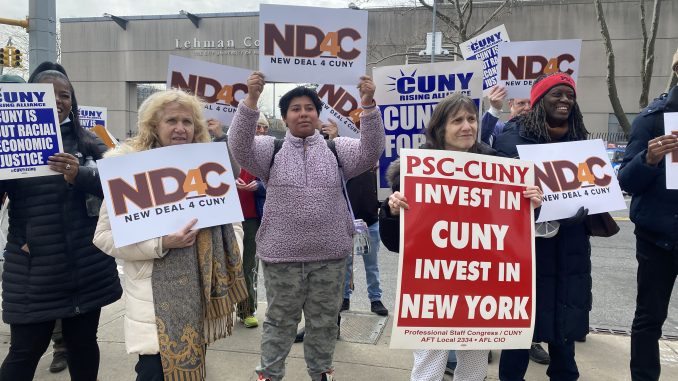 By ANNABELLE PAULINO
CUNY faculty, staff, and students called on the Bronx State Assembly and State Senate delegation to support an increase of $500 million in CUNY funding ahead of the final state budget at a loud rally at Lehman College on March 30.
Students and faculty rallied alongside Councilmember Eric Dinowitz and Ruth Wangerin, Lehman chapter chair of Professional Staff Congress, calling on the NY Senate, Assembly leadership, Bronx assembly members and state senators to support raising CUNY's funding by $500 million. Governor Hochul's proposed budget increases funding to CUNY and SUNY by $150 million each. They argue that CUNY has been underfunded for years.
Everyone in attendance chanted "a New Deal for CUNY" as they held signs that stated, "CUNY is about racial and economic justice" and "Invest in CUNY, Invest in New York."
Declan O'Boy, a Macaulay Honors student at Lehman College studying history and political science, found it ridiculous how legislators have to think twice about funding CUNY.
"This New Deal program will give us the necessary funding to hopefully reduce tuition and help more low-income students. I go to class with people who are parents taking care of their children while getting their degree, on top of that having to work too," said O'Boy.
According to a 2021 University Faculty Senate study, colleges that serve predominantly Black and Hispanic students had the lowest full-time faculty to student ratios.
The study found that since the early 1990s, per-student state funding for CUNY senior colleges has fallen 38% and has contributed to the university's current staffing crisis. More than 75% of CUNY students are people of color.
"More than half of our students come from families with incomes less than $30,000," said Councilmember Dinowitz during the rally.
"CUNY has provided them an incredible opportunity to do better for themselves and their families. And it's time our state budget reflects that, with $500 million extra dollars for our students, professors, counselors, and everything our students need to succeed," said Dinowitz
The New Deal for CUNY would require 65 full time faculty and one mental health counselor per every 1000 students, plus one academic advisor for every 250 students.
According to Inside Higher ED, in 2008, CUNY senior colleges had 41 full-time faculty per 1,000 full-time equivalent students; in 2019, there were only 34 full-time faculty per 1000.
The top concern for the PSC, the faculty union for CUNY, and the CUNY Rising Alliance, is getting an increase of $500 million to fund faculty lines, advisors and mental health counselors, adjunct parity, and make CUNY free for students, said PSC spokesperson Fran Clark.
Part-time counselors were hired with time-limited stimulus funding, CUNY has a mental health counselor ratio of 1:1,876, far less than the 1;1000 ratio called for by the New Deal for CUNY, which the International Accreditation of Counseling Services describes as a minimum to serve students' needs.
English and Journalism professor, Jennifer Mackenzie, a full-time faculty member at Lehman College is outraged by the conditions that faculty members and students have to work.
"New York City has made millions and billions of dollars off this pandemic and the burden of not knowing how they're going to eat, how they're going to pay rent and where they're going to sleep is being born by the students here," said Mackenzie.
"What this state and city could do to relieve just a little bit of that burden and that's unfairly being born by the students who are having to pay for something that used to be free," she added.
During these last days of the budget negotiations, the challenge is that other worthy and not-so-worthy expenses are on the budget negotiating table and legislators are deciding final priorities.
Ruth Wangerin, adjunct faculty member and PSC Lehman College Chapter Chair, underscored that there are outstanding students in CUNY.
"Tell the Governor that we have talent here in the Bronx just waiting for a fair chance to shine. They deserve the best and their teachers want the best for them. Now let the state government in Albany do its best for them," said Wangerin.