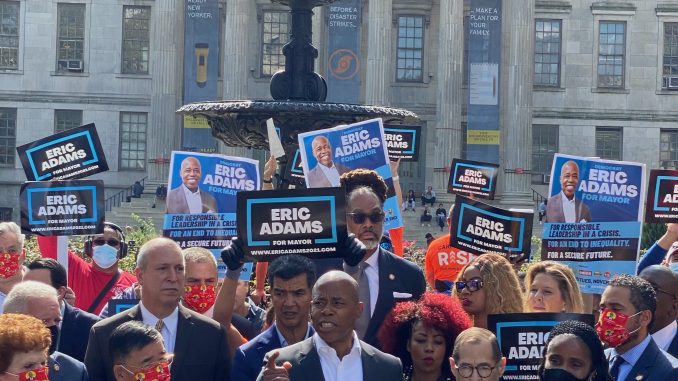 By GABRIEL TIU
"Eric! Eric! Eric!" the chants building to a crescendo as people gathered around New York City Democratic Mayoral candidate Eric Adams and his team, behind Brooklyn's Borough Hall. This was Adams' final rally to garner votes to become New York City's next mayor, as the general election nears.
Adams' confidence shined through, showing the face of one who knows the race is in the bag. As Adams began speaking, a heckler crashed the rally and accused the Democratic Party of "ruining New York City." In spite of that, Adams remained poised as he allowed his security people to control the scene, which at first seemed as if it would escalate.
"We are ready for this moment," Adams said. "This is what this race is about. I know people don't believe that we can do it. We may fail at some things, but we are not going to fail at trying.
"We are going to give everything we have."
John Borras, an Adams supporter, said in an interview with Brooklyn News Service, "It gives us hope. New York City is overdue for a leader that looks like me and speaks like a New Yorker."
Borras went on: "Adams has put in the work and the time to be in the position of leadership. He has also served this city. Hopefully, a new era is upon us after the elections."
Adams, a former New York City police captain and critic of the department's race policies, is promising police reform, wage increases, equality for minorities, and putting education in the forefront. He closed his rally by speaking glowingly of New York City, calling it "the greatest city in the globe." The "Eric!" chants built up once more.
Early voting in New York City begins on Oct. 23rd. Election Day is Nov. 2.