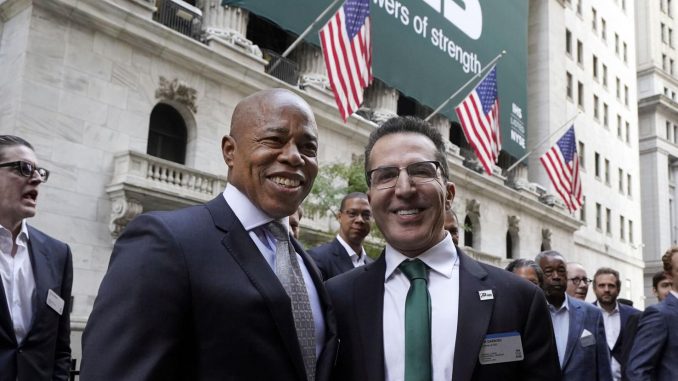 By GABRIEL TIU
Brooklyn Borough President and New York City Democratic mayoral candidate Eric Adams is virtually a shoo-in for next month's general election. However, he is rarely to be seen in public these days.
Among the few major recent events were his rally with supporters at Brooklyn's Borough Hall on October 7 and an appearance at the Black Founders Fund in Manhattan's City Winery this past Tuesday.
This morning, Adams attended the initial public offering (IPO) of IHS Towers. He briefly posed for photos with CEO Sam Darwish outside the New York Stock Exchange.
Other than the public events aforementioned, Adams has not been out and about in the public eye, which is very unusual for an aspiring politician. Campaigning politicians are typically out around the clock hitting glad handing and speaking.
The non-transparency of Adams' public schedule has raised concerns even from some of his own supporters.
Omar Medjid, a Democrat who has supported Adams, spoke to Brooklyn News Service this afternoon and said, "Even though he has this race in the bag, it's still a bad look. It kind of reflects the message that he is not all-in and not fully committed to being a mayor and what the position entails."
Medjid added, "As a politician, he should be ingratiating himself to the community and the people of New York City"
As of Thursday, with a little under three weeks left until Election Day, Adams and his campaign had about five public appearances scheduled in October, not including the two General Election debates scheduled for Oct. 20 and 26.