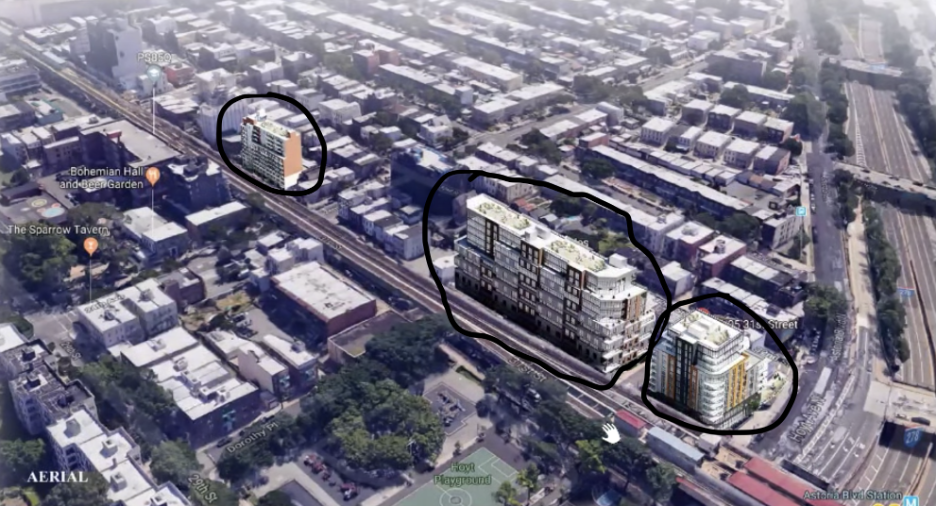 By AMANDA CURCIO
Developers are waiting for approval of the rezoning of 31st St. and Hoyt Avenue in Astoria, Queens, hoping to erect three major apartment/commercial buildings in the area.
On Thursday morning, Queens Borough President Donovan Richards held a "Land Use Public Hearing" via Zoom. A real estate associate representing the developers of the three buildings pitched their ideas, explained their strategies, and heard opinions from the public regarding the project.
Taken together, the complexes would make available 278 new residential apartments, many of which are being called low-income. There would be 10,000 square feet of community facility space, which would include a senior living center, a daycare center and a youth center. The developers intend to work with the social service group HANAC. HANAC stands for Hellenic-American Neighborhood Action Committee.
The development is offering 34,000 square feet of commercial space for rent to businesses. The buildings will be "adjacent to a mass-transit resource" and will create an estimated 193 jobs, according to Frank St. Jacques, spokesman for the unnamed developers.
"New housing is a critical need in the area," St. Jaques said, "especially low-income housing." While St. Jaques promised jobs, social services and affordable housing, not all of those who testified saw the project as beneficial to the neighborhood.
Jennifer Morreale was the first to speak against the rezoning of the area and the construction of the three buildings. Morreale is an Astoria homeowner whose home would be directly behind one of the buildings. Morreale lives in her home and rents units to tenants. She feels the buildings would pose a threat to her, financially and emotionally.
"I am worried that a building of this size will make our building untenable," Morreale said. "I am worried we will lose our tenants and income because of the construction and the lowered standard of living brought with it."
Morreale went on to voice a concern that her home would be cast fully under the shadow of one proposed building, taking away her sunlight. She said it would "decrease" her "standard of living and mental health."
Another resident of Astoria, Laura Picallo, agreed with Morreale.
"This will have a negative impact on hundreds of homes in years to come," Piccolo said. "As a resident, I am telling you, this rezoning will destroy the area."
But Carol Wilkins, a 50-year-resident of the area, was fully in favor of the proposed new development. She said the construction will bring "new business opportunities" to Astoria.
Nakeah George, another Astoria resident, agreed. "I think this is something that we need . . .This is unique," she said.