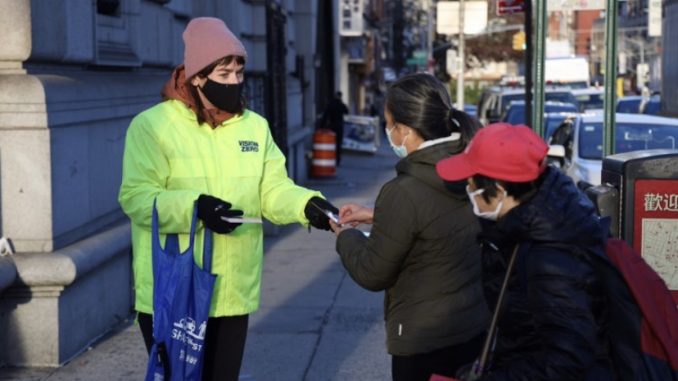 By ZHAYRON NELSON
New York Police Department Chief of Transportation Kim Royster was joined by the Department of Transportation and members of Vision Zero to brief the media on the annual Dusk and Darkness safety initiative.
The event was held in front of the NYPD (New York Police Department) headquarters at 1 Police Plaza.
Many members of the Vision Zero initiative were present, in neon green hoodies passing out pamphlets and other informational material about "Dusk and Darkness."
Some members stood in front of subway stations distributing materials to subway commuters coming out of the Brooklyn Bridge Station.
Kim Wheeler, a Vision Zero member, said, "I think we just need to have a better understanding as New Yorkers that traffic crashes can be lethal to those around us and also to ourselves, so whatever we can do to supply the public with more tools on how to protect each other it's worth it."
That sentiment was echoed by Royster, who took to the podium first and addressed the crowd. She said that pedestrians and cyclists are more likely to be victims of car accidents during this season of reduced daylight.
She said the Dusk and Dawn initiative will increase police patrols in areas where these sometimes deadly occurrences are more likely to happen.  She said officers will be deployed at sunset to focus on reckless drivers and others violating traffic laws.
She was followed at the podium by others, including TLC (Taxi and Limousine Commission) Commissioner Aloysee Jarmoszuk and Department of Citywide Administrative Services (DCAS) Deputy Commissioner Keith Kurman.  They both emphasized the need to spread the message of how important pedestrian and traffic safety is during these "dark" months, especially coming months.
The Dusk and Darkness initiative was started in 2016 by Mayor de Blasio, who aimed to reduce traffic fatalities. His most memorable plan was Vision Zero, meant to reduce fatalities to the point they never occurred.
This is the sixth annual event.