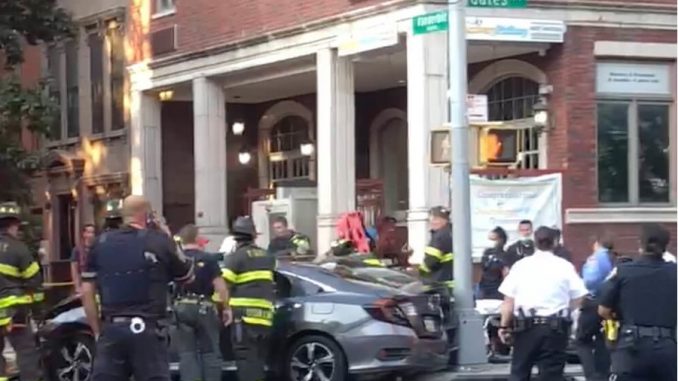 By MARY ZAKHAROVA
On Thursday, a driver who killed a three-month-old girl while driving the wrong way was charged with assault and reckless manslaughter, announced Eric Gonzalez, Brooklyn District Attorney.
On September 11, 2021, Tyrik Mott, 29, was driving a 2017 Honda Civic, and turned the wrong way on a one-way street in Clinton Hill, colliding with another car. Both cars then hit parents and a child, who was in a stroller. The incident ended up fatally for three-month-old Apolline Mong Guillemin.
Both of her parents were hospitalized, mother with severe injuries. Mangue Banzima, a man who happened to be there at the time of the accident, helped paramedics communicate in French with the mother. "She's scared, you know? She's scared. Blood coming out of her head. Her knees are all bruised up," said the man in an interview with CBS New York.
After the crash, the defendant ran out of the car and tried to carjack a Hyundai Santa Fe, parked on Atlantic Avenue, a couple of blocks away from the accident, police said. There he was apprehended by police officers.
On September 13, Brooklyn Borough President Eric Adams held a press conference to reflect on the crime. "I am tired of the endless stream of vigils," said Adams. "I am tired of trying to comfort parents experiencing the worst grief imaginable. I am tired of seeing families torn apart by the epidemic of traffic violence," reported Gothamist.
Gonzalez agreed with Adams and said "such violence cannot be tolerated" and vowed to continue to "aggressively prosecute unlawful drivers who show disregard for the rules of the road and for the lives of everyone using Brooklyn's streets."
Mott was charged with first- and second-degree assault, second-degree manslaughter, leaving the scene of an incident, reckless endangerment, and related charges. He faces up to 25 years in prison if convicted on the top count. Bail was set at $150,000 cash or $350,000 bond, according to a District Attorney's press release.
The defendant was ordered to return to court on November 30, 2021.