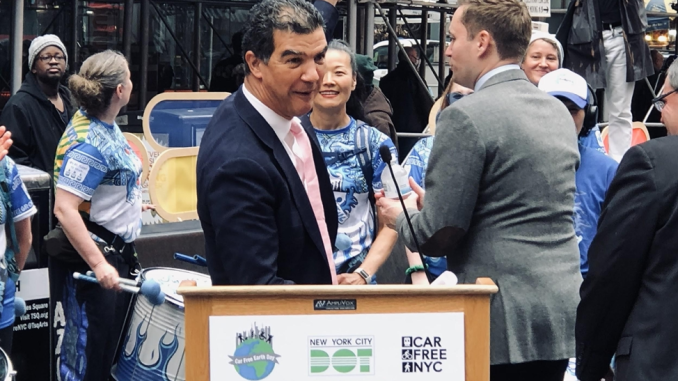 By TYRELL INGRAM
NYC Department of Transportation Commissioner Ydanis Rodríguez announced in Times Square that this year's Car-Free Earth Day will expand across the five boroughs for the first time ever.
Saturday April 23 will also be the largest Car-Free Earth Day ever with 150 participating partners.
Car-Free Earth Day is an international event that encourages pedestrians to travel without using their cars for a day.
It urges people to use other forms of transportation such as bikes, scooters, or walking to their destination in order to reduce the carbon emissions within NYC's atmosphere.
During the event, selected streets will be closed off and turned into plazas for people to walk, as well as do other various activities.
The activities include art, cultural activities, dancing, music performances, educational workshops, and bike programs.
"Earth Day is when we can all commit to protecting our earth; and one way we can do that is by repurposing our roadways," said the DOT Commissioner. "Car-Free Earth Day is a growing tradition that allows New York City's car-free streets to come alive."
This year's event will expand to over 100 open streets, 22 plazas, as well as over 1000 miles of NYC's bike networks throughout the five boroughs.
The list of neighborhoods for each borough are as follows:
Bronx, Roberto Clemente Plaza, 3rd Avenue, 148th Street to 149th Street
Bronx, Southbound Mosholu Parkway, Van Cortlandt Avenue East to Bainbridge Avenue
Brooklyn, Tompkins Avenue, Gates Avenue to Halsey Street
Manhattan, Avenue B, East 6th Street to East 14th Street
Manhattan, Broadway, East 17th Street to West 42nd Street
Manhattan, St. Nicholas Avenue, 181st Street to 190th Street
Queens, 34th Avenue, 69th Street to 94th Street
Staten Island, Minthorne Street, Bay Street to Victory Boulevard
The event is held the day after Earth Day, which has been held world-wide since 1970 to educate people about the importance of fighting for a clean and green environment and to combat climate change.
Car-Free Earth Day started in NYC in 2016, however, was discontinued for two years because of COVID-19.
"This is Earth Day and I encourage New Yorkers to join us in making the world a greener place by going car-free and taking alternative transportation," said State Senator Brad Hoylman. "Our streets are one of the largest public spaces in the city. Together, we can create a better future and more equitable use of this public space for all to enjoy."
Rodríguez wants to use this day to reimagine the city's streets with fewer cars and more pathways for pedestrians and cyclists.
When asked how this may affect minority neighborhoods in the long run, he explained that this can be a good thing because plazas can bring together people, and they bring a sense of community.
He also said he hopes the day educates people on how important it is to reduce carbon emissions.
"I applaud the New York City Department of Transportation's commitment to a greener and more sustainable city with Car-Free Day," said Congresswoman Carolyn Maloney. "New York City must be a leader in the global fight to combat climate change, and this important event can act as the template for a more sustainable future."
A couple of people shared their thoughts on this day and the future implications of the event if it was to become a permanent initiative.
"That is a good idea," said 29-year-old Ricardo Manuel. "For less cars, there's less fuel emissions."
A couple sitting near him shared the same sentiment.
"I think it's a great idea because it's less of a negative impact on the environment," said 24-year-old Darrell Elliot.
His girlfriend, Nicole Blake, agreed with his statement.
"I think that this is going to impede on people's ability to park their cars," the 22-year-old said. "But it's for the betterment of the environment."
However, one man disagreed.
"I think it's a bad idea because it will cause more traffic," Brandon Kennedy said. "It doesn't solve the issue. It will make things worse as more cars will be stuck in one area, causing more toxic fuels to be in the air."