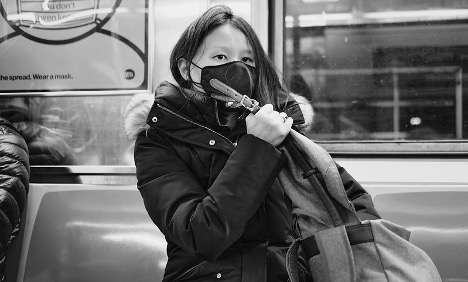 Although masks were once mostly linked to extreme and toxic environments— bloody surgical rooms, germy sanitation sites, and bank heists—now they are carried in pockets as everyday items like keys, wallets, and cellphones. And even though the state mandates for mask-wearing and Key to NYC ceased on March 7th, people at Brooklyn College's campus have still kept their masks handy.
A stroll through the school's 35 acres of land revealed that students and professors are adjusting differently to the state policy, but people on campus, by and large, choose to mask up.
In March, masks mandates were removed from city campuses, six months after the state imposed a universal mask requirement in the fall of 2021. There is a sense of tentativeness in classrooms, offices, and at every entry point as people have not agreed on appropriate times to have their masks on or off.
Some also wear masks to take some responsibility for the safety of their autoimmune peers, believing that putting them on will prevent a spike in cases.
Gabriel Salas, a student journalist with preexisting health conditions said, "They should have let students have a say before they made a final decision to lighten the mask mandate." He says, "I have taken the train, [and] I have also seen more people not wearing masks than on the bus. I know the campus was making their judgment based on the lifting of masks for public schools, but I feel like it was too soon.
In some state-regulated health care settings, state-regulated adult care facilities, nursing homes, public vehicles, transit stations, prisons, homeless shelters, and domestic violence shelters, masks have remained obligatory. But in all other public areas, mask-wearing has become an optional measure, which seemingly leaves the public in charge of public health.
According to city data, just over 70 percent of New Yorkers have received both doses of the COVID-19 vaccine, yet only 60 percent of residents in Flatbush, Brooklyn College's home neighborhood, are fully vaccinated.
An emailed message from the office of Ron Jackson, Brooklyn College's Vice President of Student Affairs, read, "Brooklyn College will continue to follow New York State's and the University's COVID-19 protocols. As the Chancellor announced, masking is now optional inside CUNY (City University of New York) buildings. While many people will continue to mask, doing so is no longer mandatory."
At Boylan Hall, in a room on the third floor, Kayla G., a student and peer mentor in the school of Humanities, is sitting about 30 feet away from the entrance, behind four 72inch-plastic folding tables. The tables are placed as a buffer between those who enter the room and Kayla. Still, she puts her mask on without any hesitation as soon as a visitor enters the room.
Brooklyn College's Theater Department, which experienced disproportionate impacts and difficulty when the college pivoted to remote learning, still chooses to keep the once mandated social distancing and masking precautions for COVID-19.
A COVID safety officer for the department, Niluka Hotaling, and the production manager at the Tow Center of Performing Arts, said, "A lot of people are a little bit relieved because now they can breathe easier. When you are unpacking a truck or packing a truck carrying heavy things, you do not want to impair your ability to breathe. And so, in that respect, there is a sense of relief. But I must think about the health and safety of a whole group of people, you do not think of individuals, you must protect groups of people."
The department is one of a few places on campus that maintains a requirement for indoor mask-wearing to protect the health of student performers and the safety of all who attend their shows. Hotaling says, "It is hard right now with the internet, the internet is making it hard for all of us to have a shared truth.
Performers must wear transparent face coverings and all visiting guests are required to be vaccinated, approved by the school's Cleared4 program, and to have their masks on inside regardless of physical distance. Although the CDC (Centers for Disease Control) pivoted away from social distancing, the department sustains it for safety reasons, even as shows have not exceeded 50 percent occupancy rates.
In a hallway, there were groups of students standing and seated outside of classrooms due to a faulty fire alarm, which flared on and off three or four times since noon. This floor, belonging to the school of Biology and Physics, momentarily suspended classes as school officials investigated the alarm malfunctions. The long hallway was populated with 40 students awaiting further instructions from maintenance, but only six people were without masks.
Schena Jules, one of the many testing agents working at the campus's testing center at Roosevelt Hall, said she is afraid of contracting the disease. She claimed, "some of the students who are called for random tests lie when they were sick or if they are still feeling sick." The testing site at Roosevelt Hall tests about 220 people weekly, while the number of unvaccinated people remains unknown to the Covid-19 testers.
In her office in Ingersoll Hall, Professor of Physics Sophia Suarez, whose desk is about 8 feet from the open door, sat without a mask. "[No mask mandates] is problematic because we got rid of the social distancing mandate," says Professor Suarez, "The objective is to have as much protection since you cannot rely on people to have your health interests in mind."