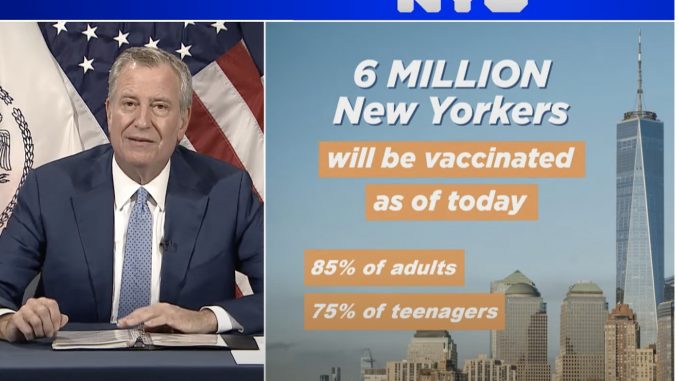 By AMANDA CURCIO
Mayor Bill de Blasio met with the press Thursday, live-streaming from the Blue Room at City Hall, presenting the city's most recent vaccination statistics.
"Today is going to be one of those milestone days in the fight against COVID," de Blasio said. "Today will be the day when we hit an amazing number — six-million New Yorkers who have received at least one dose of the vaccine. Six-Million vaccinations as of today."
Eighty-five percent of adults have received at least one dose of the COVID-19 vaccine, and 75 percent of teenagers.
"This is a staggering figure, this is how we're coming back."
De Blasio proudly stated that with six million adult vaccinations, only about one million adult New York City residents are unvaccinated. He said he is eager to bring that number down, using incentives or mandates.
On expected FDA approval of vaccinations for children ages five to 11, the mayor was asked if COVID vaccines will be required for children to attend elementary schools.
"Not at this point, because having the vaccine and parents allowing their kids to get it are two different matters," de Blasio said. "Our priority is having children in school, so for the foreseeable future, the best solution is that gold standard of health and safety approaches (what) we've (done) so effectively."
De Blasio said he wants all adults vaccinated and looks forward to more and more children being approved for vaccinations.
"But we're not gonna exclude a child (for not being vaccinated)," he said. "Our kids, a lot of them went a year and a half without being in a classroom."
The choice on children being vaccinated, the mayor said, is their parents' to make. "We're not excluding them because of the decisions their parents make, we need them in school," he said.
De Blasio said he hopes to have a fully-vaccinated city by sometime in year 2022.