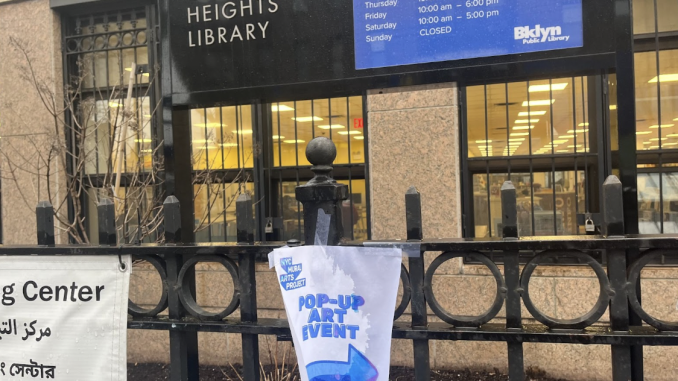 BY DANIEL DIDONNA
On Saturday, March 25, the New York City Mural Arts Project (NYCMAP) organization hosted a pop-up art event with a mental health discussion at the Brooklyn Public Library in Crown Heights. The focus of the event was to discuss a forthcoming mural in the community, as well as improving the discussion around mental health issues. 
According to NYCMAP – an organization that works with community groups emphasizing mental health –  one in five New Yorkers have a mental health condition, but most are unaware of it because of the stigma around mental health.  
"The reality is there are many people who are afraid to access these services…there are real consequences for people who don't get the resources that they need," said Carlos Perez, the Executive Director at Kingsboro Psychiatric Center. 
The Kingsboro Psychiatric Center works hand in hand with NYCMAP, as they also want to end the stigma attached to mental health. One of the ways in which they do that is through community, and one of the ways in which they build a community is through art.  
"Over the past five or so years I've seen this group grow bigger and bigger," said Damian Oritz, a volunteer who was working at the event. 
Ortiz has been at many of these pop-up events over the years and has seen first-hand what this organization has done for people with mental health issues and the community. 
"My biggest takeaways from this project are that it is not about the art that is made but rather the people that go into it… we've built a really nice community that has helped people in many ways… I think people that just talk to people about their issues help," said Ortiz. 
People with mental health issues are often lost or afraid of speaking out for fear of being judged or ashamed of their condition. This was the case for Nicole Kokkinos, who, just a few years ago, got diagnosed with Bipolar disorder, but for her, finding this organization helped her out greatly.
"Just being able to speak about this condition with someone who is going through what I am going through and meeting people and hearing how they have struggled but came out the other side was really important to hear… it made me realize that I wasn't alone and that was comforting," said Kokkinos.  
Kokkinos helps when NYCMAP is near her just to give back to what the organization has given her. 
People who suffer from mental health issues are often unaware of what they are dealing with and rarely get diagnosed, but for those who do, it is often a lonely world and one in which there are often more questions than answers. 
The NYCMAP organization has given an avenue for people to reach out and be a part of this community. Their  is to support as many people as they can, and the art is the beacon to those who still are in need of help. Talking to someone and sharing, participants said, can be a great first step. 
"Don't be afraid to talk to someone if you are feeling unwell. Just asking for help is one of the bravest things you can do," said Kokkinos.