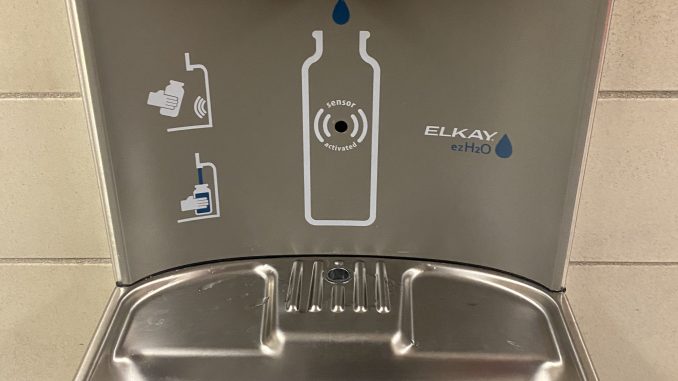 By ANNABELLE PAULINO
The COVID-19 pandemic may have pushed institutions to make drinking water more accessible and sustainable through the expansion of water bottle filling stations–it's certainly true at Brooklyn College.
Brooklyn College student Jessica Herrera, for one, brings a reusable water bottle with her and enjoys that the college has access to drinking water for free.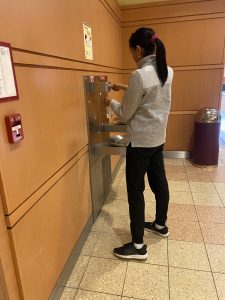 "I don't have to pay almost three dollars for a bottle of water when I can bring my own bottle and refill it. It's convenient for me. I'm saving money, and I'm staying hydrated while I'm on campus. I can refill as much as I want," said Herrera.
Elkay's 13 bottle filling stations are spread out on Brooklyn College's campus. Elkay is an American-owned and operated innovative manufacturer of sinks, faucets, bottle filling stations, and drinking fountains. According to elkayezh2o.com, Elkay has saved 4,208,988,517 plastic bottles from waste with their bottle fillers.
While the college turned off drinking fountains as a health measure because of the pandemic, the bottle filling stations were installed as a part of the Participatory Budgeting initiative by the BC Student Government in 2017 which provided students an opportunity to propose innovative ideas for the college to fund that students then voted on.
"The Participatory Budgeting Committee had an open call for proposals," said Zunera Ahmed, co-chair of the 2017 CLASS Student Government. "We did outreach with Professor Michael Menser who is an expert in participatory budgeting," she said.
The committee reviewed all proposals and narrowed the choices down. "Students had the opportunity to vote for a project during the student government elections. There were five projects total on the ballot. The stations won 33.9% of that vote and thus was the project that was funded by the Student Government," she said.
Carrie Sadovnik, director of environmental health and safety at Brooklyn College said that USG's push for bottle filling stations is the reason why students at this campus can enjoy free, accessible, drinkable water.
Brooklyn College's Office of Environmental Health and Safety spokesperson, Richard Pietras, said the college is committed to combating the environmental impact of single-use plastic bottles.
"Brooklyn College is tackling the environmental impact of single use plastics, including water bottles. The water bottle filling stations installed around campus divert over 375,000 plastic bottles from entering the landfills since they were first installed," said Pietras.
Facilities across CUNY have purchased over 150 filling stations, replacing fountains as resources allow. The stations deliver cold water from the New York City water system. Brooklyn College is required to check for lead levels in the drinking water associated with the early childhood center.
According to the Department of Environmental Protection, NYC tap water is tested more than 900 times daily, 27,000 times monthly, and 330,000 times on an annual basis with 1,200 sampling locations throughout New York City.
Sadovnik said the College is planning on expanding the number of bottle filling stations. Since Covid-19 is still rampant, for the safety of staff, faculty, and students–all water fountains will remain off until further notice.
"We are trying to get the DEP's Water on the Go portable filling stations to be installed on campus for the summer term. This initiative helps with hydrating our students, staff, and reduces the use of single-use plastic bottles," said Sadovnik.
The Department of Environmental Water on the Go Project are portable fountains that are installed with filtered water on the campus using a hose system, now retrofitted to be bottle fillers.
Brooklyn College wants to use the Water on the Go Project on its campus grounds during the summer for students, faculty, and staff to be hydrated and bring reusable water bottles to reduce the use and purchase of single-use plastic bottles.
Iqura Naheed, the 2022 Undergraduate Student Government president expressed how the bottle filling initiative started back in 2017 has made an impact with college students, faculty, and staff today.
"The stations provide an accessible and affordable alternative to having to purchase water bottles from vending machines. I think getting these stations was one of the great initiatives pushed by students through the undergraduate student government and I hope we can continue to bring creative ideas forward on how to improve our campus," said Naheed.