By Charlene Carlies
The New York City Council is advocating strongly for ranked choice voting to be included in the New York City Charter Revision Commission for future elections.
Council member Antonio Reynoso, along with Susan Lerner, Executive Director of Common Cause NY, answered questions Thursday about the charter revision and ranked choice voting at Maria Hernandez Park in Brooklyn.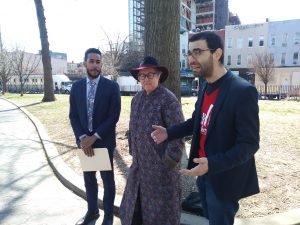 The New York City charter is the basic document setting essential procedures of the city government.
Through the New York City charter revision commission, the current New York City charter will be open to revision. The Mayor has appointed a Charter Revision Commission. The City Council has also created its own commission.
Both commissions will hold hearings to get public input, analyze the entire chapter and make proposed changes to put on the ballot.
Vicky D'Anjou-Pomerleau, an administrator at BedfordStuyvesant New Beginnings Charter school, believes that ranked choice voting is a very important component to a new democracy.
Ranked voting allows voters to rank as many candidates as they want, in order of the voters' choice.
"Having ranked voting actually allows and encourages a very wide field that may or may not be partisan," D'Anjou-Pomerleau said.
"I think it makes sense to be humble and realize that we have an old constitution, and just because it got us here doesn't mean it'll get us to where we have to go. Ranked voting will encourage a gathering of issues- a lot of issues that people can get behind."