By Shanika Carlies
On Thursday morning, in front of the steps of City Hall, Councilmember Ritchie Torres, who represents the 15th Council District in the Central Bronx, announced his push for legislation to certify LGBT small businesses. He announced a bill to have LGBTQ small businesses included in a program to be able to compete in getting government contracts.
Without being certified, LGBTQ small business owners have less of a chance to gain help with funding and contracting.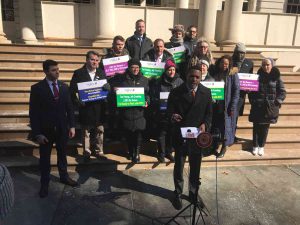 In 2016, Mayor Bill de Blasio implemented changes to the city's Minority and Women-owned Business Enterprises program. These changes made it easier for small business owners in those categories to not only apply for city contracts, but to secure loans throughout the city as well.
Councilmember Torres is trying to get the same benefits extended to small business owners from the LGBT community.
The National LGBT Chamber of Commerce (NGLCC) is the business voice for the LGBT community and is one of the organizations that would help LGBT-run businesses become certified under this bill when/if it becomes law.
According to NGLCC's press release, Torres' bill would, "make New York City the largest municipality in the United States to intentionally include LGBT-owned businesses in municipal contracting and economic development opportunities."
"Thanks to this bill, LGBT entrepreneurs in New York City will now have the opportunity to create jobs and develop innovations that benefit all who live in the most diverse city in America," said NGLCC President and co-founder Justin Nelson.
"Even though the LGBTQ community creates immense economic activity for NYC and the city is known as a bastion of LGBTQ equality, there's no certification that recognizes LGBTQ business as part of the diversity of the marketplace," said Councilman Torres. "There are corporations looking for greater LGBTQ diversity in their contracting, and there are LGBTQ businesses looking for more opportunities. A certification would be a way to bridge the gap."
According to a report from the NGLCC in 2016, it is estimated that the impact of LGBT-owned businesses across the country was more than $1.7 trillion.
It is reported that the Mayor's office is looking forward to reviewing the bill.