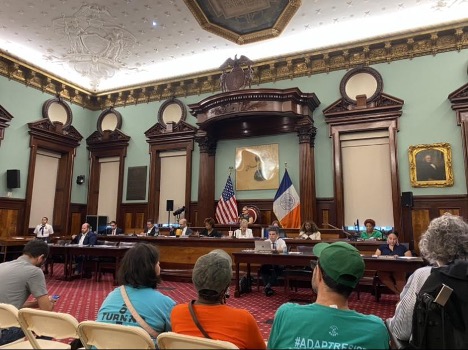 BY BRET BOTFELD
District 5 Council Member Julie Menin took issue with the Department of Transportation's NYC Streets Master Plan during a council hearing on Tuesday. Menin has encouraged adding curbside extensions to the agency's plan for some time. Curb extensions extend the sidewalk or curb line out into the parking lane and are widely used to improve safety. "Many major cities have included curb side extensions. Boston, Chicago, Los Angeles, and Washington D.C. have done so," Menin said.
The benefits of adding curb side extensions include shortening the crossing distance for pedestrians, and improving the ability of drivers and people crossing the street to see each-other.
NYC DOT's mission, according to its statement, is to provide for the safe, efficient, and environmentally responsible movement of people and goods in the City of New York and to maintain and enhance the transportation infrastructure crucial to the economic vitality and quality of life of our primary customers, city residents.
A fiery exchange occurred between Transportation Committee Chair Selvena Brooks-Powers, and Department of Transportation Commissioner Ydanis Rodriguez at the end of Tuesday's hearing, according to Streetsblog. The DOT was unable to provide an answer for the Transportation Committee when Brooks-Powers asked,"How many bus and bike lane miles have you built so far this year?" She did not get an answer, and accused the agency of failing to meet its requirements last year and the year prior. Beginning in 2023, the DOT is required to add 30 miles of new protected bus lanes, and 50 miles of protected bike lanes. "The 30 miles of protected bus lane and 50 miles of bike lanes is not a goal – it's a legal mandate," Brooks-Powers said.