By Maya Dower-Johnson, Jonathan Wilson and Salamat Ellams
The New York City Council held a hearing at City Hall on Thursday to discuss building plans for the proposed Haven Green project, a development aimed at assisting LGBT seniors in attaining affordable housing. Officials say there will be publicly accessible green space.
Many Manhattan residents, however, are fighting tooth and nail to defend the development site, which is currently home to the beloved Elizabeth Street Garden, a public community green space located near the intersection of Mott Street and Spring Street in the Nolita neighborhood of Manhattan. Residents have even gone as far as filing a lawsuit against the City of New York and the Department of Housing Preservation and Development (HPD), challenging the city's actions regarding environmental quality review and the destruction of the Elizabeth Street Garden.
"We need a connection to nature to give us solace and renewal," said Allison Sky, a neighbor of the site. "To cannibalize it for a small amount of housing isn't a win-win for the city, it's a lose-lose."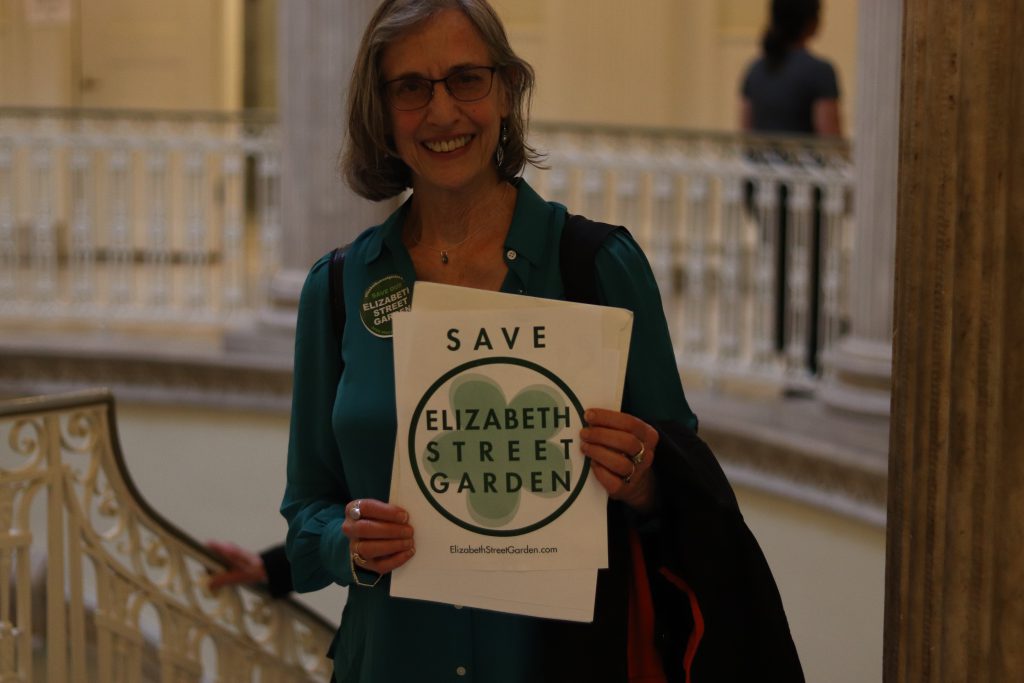 Haven Green would comprise 123 affordable studio apartments, 15,000 square feet of ground-level retail, and around 8,000 square feet of open space. Of the 123 units, 37 are for formerly homeless seniors.
Sky said, "It's going to have offices and a small amount of studio apartments. What is a studio apartment? That's just a little space, that's not fair to people and that's not fair to call that affordable housing."
Community Board 2 voted against the project in a February hearing. Manhattan Borough President Gale Brewer has, however, given her approval and recommended the application as part of the Uniform Land Use Review Procedure (ULURP), but with conditions. These include calls for 30 percent more open space than currently proposed, permanent affordability for all housing units, a community facility space, and an agreement for the city to manage the new open space.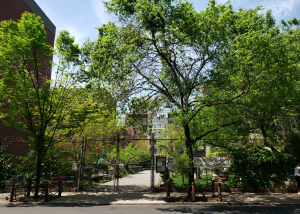 "The Elizabeth Street Garden, in the five years since the proposed development was announced, has grown to become a cherished community resource as an accessible open green space," Brewer wrote. "Unfortunately, our housing crisis and growing senior population do not allow for an either/or scenario. We must build permanently affordable housing wherever feasible while also maximizing open space on these sites for additional public benefit."
Brewer added, "There is a growing need for affordable housing throughout the city and especially within Community Board 2, which has only seen 93 units of affordable housing built since 2014."
The Garden is situated on city-owned land which is privately leased and made open to the public by Elizabeth Street Garden, Inc., a 501(c)(3) non-profit, fully volunteer-based organization. It offers free educational, wellness and arts-related events throughout the year for children, seniors and all who live and work in the community.
Provided the city has its way, Haven Green would be the second LGBT-friendly affordable housing senior development in the city, following the Ingersoll Senior Residences in the Fort Greene neighborhood of Brooklyn, which contains 145-units, set to open later this summer.
Interviewed Thursday, 65-year-old Ursula Pipoli, walking with her two dogs, said, "I've enjoyed this garden for the last several years now. The statues are a great view to sit, relax and gaze at . . . When the building goes up it's gonna feel like a prison." She admitted she was sad. "We got to enjoy a piece of nature but soon it will all be gone."
Anne Green, a local resident of more than 30 years, said, "The garden has a special place in my heart. It's hard to make friends in the city. The garden was a great place for me to make friends. It has become more relevant since my husband passed away."
Groups against the development, including Elizabeth Street Garden and the Friends of the Elizabeth Street Garden, have proposed an alternative site for Haven Green, a city-owned lot at Hudson and Clarkson Streets, but the city isn't biting at the idea.
The third and final vote is left to Mayor de Blasio, which is set for some time in the near future.