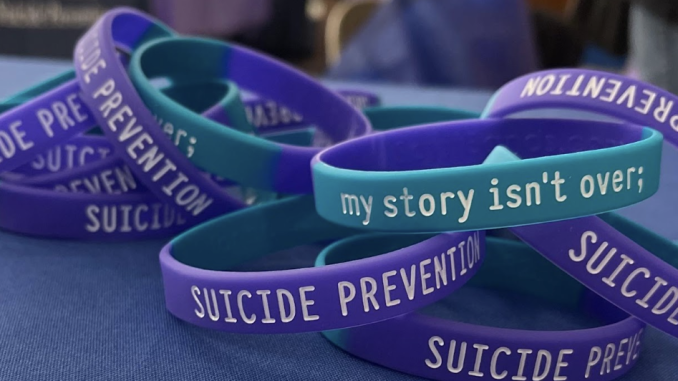 BY TANESHA THORPE
Veterans, family members, and community members attended The Brooklyn Public Library's "Finding the Light in Darkness: Suicide Awareness and Mental Health Symposium" in September, 2022. To be a part of an open conversation and discussion surrounding mental health, suicide awareness, and how to stay informed and alert on the matter.
The event took place at Brooklyn Public Libraries main branch located at Grand army Plaza . It began with Community Partner Introductions and a short informational on the importance of mental health. 
Community organizations, such as NAMI and Emotions Matter BPD. The VA NY Harbor Healthcare System, Ohel Family, and others were located in the Lobby as soon as individuals entered.
"I came because my husband is a veteran and he's lost three of his close friends to suicide. I want to be able to help him and notice the signs if that is ever something that he begins to battle with," said Destiny Grant, a third-grade teacher who lives in the community. 
During the event, Community Engagement partnership Coordinator Sebastian Shaw lead a suicide awareness training to help individuals just like Grant. With understanding the right words when addressing someone they think may be at risk.
"Asking someone 'are you OK' isn't enough, and most people don't know that. When someone is battling with the idea of suicide there's a greater chance they won't say anything directly about it," said Shaw.
Everyone at the event learned new and better ways of approaching conversations like revealing something about yourself can be a great way to open the door for someone to share what's going on. 
The takeaway of the presentation was S.A.V.E. – Signs of Suicidal thinking should be recognized. Ask the most important question of all. Validate the Veteran's "or persons" experience. Encourage treatment and Expedite getting help. 
Suicide is the second most common reason for death among college students and post-9/11 veterans. Veterans are at 57% higher risk of suicide than those who haven't served.
Tanya Jones, an audience member, was touched by the presentation and shared her encounter about a time in her life when a friend came to her about committing suicide.
"She walked up to me and told me she took her parent's pills and planned on taking them in the bathroom. I just stood there in shock, I never knew how to handle those situations," said Jones.
Other audience members chimed in with different suggestions and even offered a helping hand to others in the community. 
"It's important for us to stick together and help one another. Mental health isn't a small matter especially when we all face our own mental struggles. These events are important and it helps bring our community closer," said Grant.
There are 210,808 Veterans that reside in NYC, of which 25.7% reside in Brooklyn and the majority have served in Vietnam.
Between 2010-2019 there has been a yearly increase in suicides among females and males.
"This event provides an opportunity to learn about other community organizations that are in your own backyard you didn't even know about. Gain information that most people are always shocked when they see" said Sarah Montrichard-Ramón Cabrera, Community Health Coordinator at Brooklyn Public Library.
The Brooklyn Public Library partners with multiple community programs like these yearly, to help support mental health and provide resources for individuals struggling.
"It's a pleasure for us here at the community health department and outreach services to be able to partner with community organizations to bring this type of event to our patrons," said Cabrera. "We haven't been able to put an event like this together since before the pandemic"
Attendees gathered outside grabbing trinkets and information packets from each organization's table, while sharing stories and giving support to one another after hearing each other's stories.
The library supplied a goodie bag filled with colored pencils, coloring books, stress balls, and supplies to help encourage stress relief and positive mental health.
24/7 Support is always available with The National Suicide Prevention Hotline (1-800-273-8255) supplying free and confidential help for people in distress.