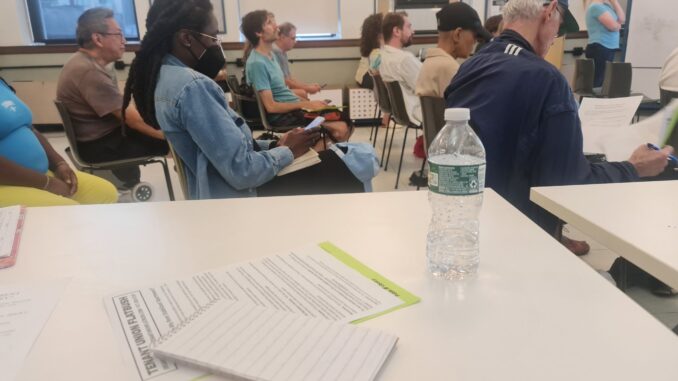 BY: JADA SIMON
Since the pandemic, Flatbush residents have struggled to keep up with rent hikes and
landlords failing to make needed repairs. Three community groups–Tenant Union Flatbush,
Flatbush DSA and the Legal Aid Society–are hosting a "Tenants' Rights Workshop Series" on a
bi-weekly basis to provide the residents with resources on tenants rights violations.
There's another reason why Flatbush residents need this information. On June 21, 2023,
the RGB(Rent Guidelines Board) came to an official vote on new rent guidelines. It was a 5-4
decision allowing building owners to increase monthly rent by up to 3% for a one year lease.
This will take effect between October 2023 and September 2024.
A resident of the upper Kensington area bordering Coney Island said that her landlord
neglected to make repairs no matter how many times she asked. The landlord even raised the rent
of one of her neighbors because she made complaints.
"They jammed my bedroom window open, so it doesn't close. It's been like that for three
years," she said. "The woman who probably had the best shot at fighting it and she was clearly in
a rent stabilized apartment, they doubled her rent. It went from $1,800 to $3,000 something. She
just said I can't deal with this."
The upper Kensington resident said her neighbor filed noise complaints and part of that
increase in rent was "they wanted to push her out because she was complaining about things and
she was filing official complaints."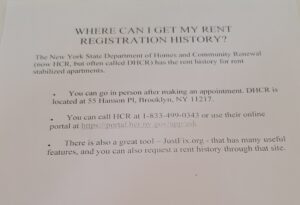 At the second event in the series on August 31st, attendees learned about a term that
could change the game. It's called "rent stabilization."
One Legal Aid Society lawyer said "If you live in a building built before 1974 that has
six or more apartments, you are rent-stabilized. Anyone that is rent-stabilized pays a rent price
that is decided by the state, not by their landlord." A tenant has a right to be notified when their
rent is going to be increased. A tenant that has lived in the unit for six months is required to get
30 days notice of an increase in their rent, for one year 60 days and for tenants of 2 years, 90
days.
If tenants notice suspicious changes in their rent, they can request their unit's rent history
by contacting DHCR (New York State Department of Homes and Community Renewal). The
Legal Aid Society encourages tenants to testify as a group so that unjust landlords are more
likely to be held accountable. "There's power in numbers," said Nell Hirschman-Levy of the
Legal Aid Society.