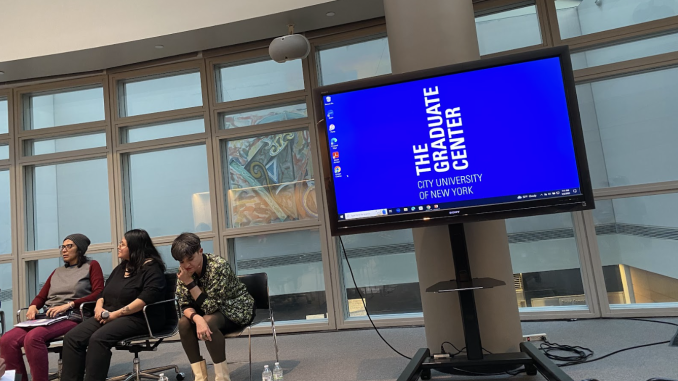 BY ANDRE RICKMAN
There is a beauty of nature in the Bronx, but sometimes, over policing and silencing the ones who speak out against environmental racism is unfortunate.
This was where the CUNY Graduate Center stepped in, collaborating with the Futures Initiative for their recent event – Why can't we breathe? Fighting environmental racism in the Bronx, which explored environmentalism and intersectionality.
The event on May 3 was hosted by the Futures Initiative founder Cathy Davidson of the CUNY Graduate Center.
The panel acknowledged how striving to better the scenery for the Bronx has come with extreme backlash from authorities of these marginalized groups. Panelists shared how environmental alternatives can better residents' lives in the Bronx. 
This sentiment was echoed by Odalys Burgoa, member of Bronx Land Trust, who spoke on the panel about how environmental racism has affected various communities in the Bronx. 
"There is an activeness in creating these changes in Hunts Point, Bronx from the people of self gentrifiers," said Burgoa. "I analyzed the situation between self-gentrifiers of Hunts Point  and the people that have to breathe the after effects of their actions, with the more companies that come in the less amount of alternatives can be served to the underprivileged."
Guests were excited to see this part of the meeting to hear from leaders actively working on the nature side to help their community to combat the wrongdoings of environmental racism.
"Seeing amazing people like Odalys Burgoa, someone who's father worked for truck federation finally speaking out against the atrocities that affect her neighborhood is spectacular," said Everett Davidson, an event attendee. " Having people like her on the forefront of  these concerns can give hope for a better future.
Panelists shared the narrative of pollution and how it affects marginalized communities. "The most powerful predictor of where the most industrial pollution is – race is the most potent predictor," echoed panelists. 
According to TeachforAmerica,org, The South Bronx has some of the nation's worst levels of air pollution. Asthma is routine for students of  Fannie Lou Hamer Freedom High School, designated area in the south Bronx 
 "In the Bronx, everyone knows people who have asthma and it should not be that way at all," writes Jasmine Pena in the article.
The concept of environmental racism and community members' non profits in the Bronx being aware of pollution and infrastructure issues to marginalized communities was confirmed by  Cathy Davidson
"As us as the inhibitors of the earth, we as its subjects must be able to help the other inhibitors of the earth as well and make sure they have the means to survive especially in this impoverished community," said Cathy Davidson.
At the end of the meeting, Burgoa acknowledged the beauty of community meetings like these.
"Being a guest speaker at this event is a beautiful thing to see and be a part of," said Burgoa.
Davidson echoed a similar message.
"Community matters, we can't do it alone," she said.