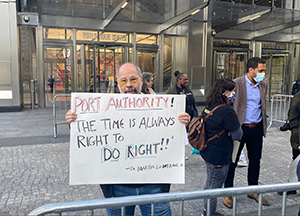 By STEPHANIE ROSERO
On Thursday, the Coalition for Affordable Tower 5, an organization formed by community leaders, 9/11 survivors, and locals, came together to fight for 100 percent affordable housing in the planned mixed-use tower at 5 World Trade Center.
The Port Authority of New York and New Jersey has been working with Silverstein Properties and Brookfield Properties to bring into being an 85-plus story tower, which will consist of retail and community space, as well as residential units that are only 25 percent affordable.
"We want 100 percent affordable housing. This neighborhood has lost affordable housing since 9/11 and has become a wealthier high-end neighborhood and people who have lived here for years can't afford to stay," said Richard Corman an activist who is a part of the coalition, speaking with Brooklyn News Service.
"We want substantial increases in diversity in this neighborhood by having this infusion of affordable housing that lower Manhattan desperately needs," he said.
The Organization has been in communication with the local community board and elected officials. It says it has the support of Congressman Jerrold Nadler, Congresswoman Carolyn B. Maloney, Assemblywoman Yuh-Line Niou, State Senator Brian Kavanaugh, and Democratic Nominee for City Council in District 1, Cristopher Marte.
The Coalition for Affordable Tower 5 has submitted letters making its demands to Empire State Development as well as the Port Authority of New York and New Jersey, but has not received replies, Corman said.
"We're not getting answers as to what it would take to make it the 100 percent or any other level of affordability, but our elected officials have demanded answers as well and I think that's going to help."
Jill Goodkind, another activist from the coalition for Affordable Tower 5 tells the story of her husband Tom Goodkind who has also been advocating for this issue for over a decade. "It's public land, it should be for public good," Goodkind said.
The organization is planning more rallies until it gets answers and it's able to make a difference in the community.
The coalition has a website: https://affordabletower5.com/