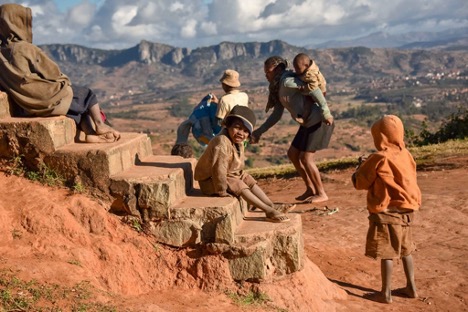 By: TYRELL INGRAM
There are one billion children who live in areas where the climate is considered at "extremely high risk" according to a report from UNICEF.
According to ECPAT-USA, an anti-human-trafficking organization, this can cause many children to migrate alone to cities, leading them to be caught in the human trafficking market.
On March 8, ECPAT-USA held a virtual discussion about the multiple ways in which climate change can lead to children being trafficked and solutions to prevent human trafficking.
The panel consisted of six people from across the world that are from organizations that prioritize migration, child-safety, and climate change.
Laura Healy is a human rights lawyer and is a program lawyer and program specialist working on migration and displacement at UNICEF.
"Children and young people impacted by climate change often have few opportunities to move safely," she said. "So trafficking can be an unintended but quite direct consequence."
The harsh climate in certain areas can cause people, especially children, to move to areas in search of resources. There are 820 million children who are highly exposed to heat waves, 400 million children who live in areas that face high risks of cyclones, and 850 million are exposed to four or more climate related shocks, according to Healy.
Northern Ghana is an example of a harsh climate because it has four months of rain and that leads to flooding.
"A large number of young people in the streets are children who have migrated from the northern part of Ghana, and it's reported that there are over 60,000 children that are living on the streets of Ghana," said Olivia Umoh, director of Safe-Child Advocacy. "Increased poverty, migration, and lack of protection, exposes them to the risk of trafficking."
She then went into depth about what happens to the trafficked children.
"Ghananian youth and women are trafficked internally and externally for domestic servitude for the girls," she said. "Farm labor, illegal mining, and fish labor for the boys. Some of the children work as fishermen and are at risk of drowning. And there is sexual exploitation."
Globally, about 20% of human trafficking victims are children, however, 79% of human trafficking incidents are for sexual exploitation, according to the United Nations.
Panelist suggested ways to counter climate change-caused human trafficking. One proposal to help solve this issue was to focus on children's rights laws.
"Children's rights law provides a mandate for a comprehensive response," said Jonathan Todres, a professor of Law at Georgia State University College of Law. "There's a breadth of law, including children's rights law, that requires governments to take steps to prevent trafficking of children. It requires that governments ensure access to healthcare, to ensure that every child has a right to an education, to housing, to basic nutrition, and more."
Another approach is to invest in collecting more data on children affected by climate mobility and child trafficking. This would help organizations, advocacy groups, and governments analyze future displacement risks for the youth and perhaps lead to better protection services in countries and cities to address incidents of trafficking, violence, or abuse against children.
The most important solution that was agreed upon by the panel is to listen to the voices of those children.
"We need to partner with children and young people impacted by climate change and most at risk of trafficking and exploitation," said Healy. "This means listening to them and actually amplifying their voices in support to translate [their concerns] into concrete action."
Kiana Joy Yabut is a representative for the University of Guam in the Guam Youth Congress, a governmental body that allows the youth (between ages 14-23) to create and pass bills that then goes on to the Guam legislature where they debate and possibly pass these laws.
She said it best in terms of human trafficking and climate change.
"One of the biggest misconceptions about climate change is that it's really viewed by policy makers as solely an environmental issue," said the 21-year-old representative. "The truth is that climate change is an everything issue."