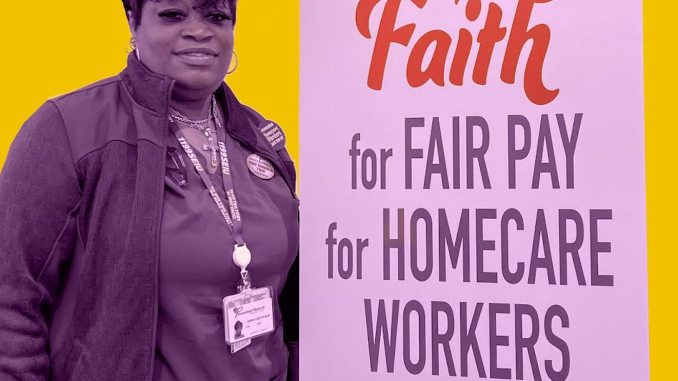 By SHIRLEY ALVAREZ
New York City faith leaders and homecare workers gathered to support the fight for a wage increase for people who care for the elderly and disabled this Thursday, at the 1199SEIU headquarters in Manhattan.
Anna Couch, a home care worker for 19 years, wants home health aides to be paid what they are worth. As she said in Spanish, "We deserve a permanent salary. We have been working on this for years, and they don't pay us as they should." She went on to say, "We have to pay rent, medicines, transportation, and food, and what they are paying us is not enough."
During the COVID-19 outbreak, the U.S. government increased unemployment and gave taxpayers stimulus checks; some companies gave bonuses to their workers to thank them for their work during the challenging time.
Although this money prevented much hardship, Couch demands something more. "We want to be included in this year's budget. So, we are asking for $20 or more per hour so that we can be calmer about paying for a roof," said Couch, who at the moment makes $15 per hour, the minimum wage in New York City.
In every religion caring for one another is one of the strongest pillars. NYC clergy members showed their support through prayers and blessings. "I'm here to support you financially and spiritually," were the words of community activist and Imam Shahbaz Ahmad Chishti, an Islamic prayer leader. 
Executive Director at New York State Council of Churches, the Reverend Peter Cook, said that his parents were at an age where they needed assistive care. "They want to stay in their homes. But when the very people who can make this path possible are not paid a living wage, it's an injustice to our parents and to the people who care for them," said Rev. Cook.
Rabbi Guy Austrian addressed an emotional prayer to the workers. "We ask your blessing on those in need of care and on those who give care," Austrian said as he finished his prayer.
These community activists and workers also addressed words to New York State's first female governor, Kathy Hochul. "We are all women here, mostly women of color. So how could you stand up to be proud to be the first governor of New York who is a woman and not fund fair pay for homeworkers?" said Bobbie Sackman, campaign leader at N.Y. Caring Majority.
"One of these days, it will be her turn, and she'll need us. So, I hope she thinks this through and keeps it in the back of her mind," said Couch.