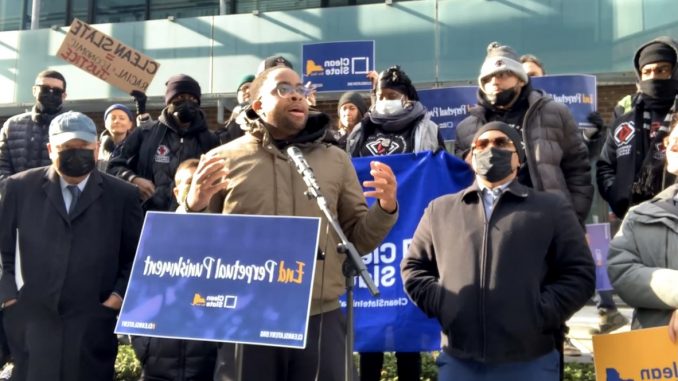 By MATT HIRSCH (with AMANDA CURCIO contributing)
State Senator Zellnor Myrie and Assemblymember Catalina Cruz held a rally Thursday in Bedford-Stuyvesant to promote the "Clean Slate Act," legislation that would seal certain conviction records after offenders have "paid their debt to society," according to the proposed bill.
Senate Bill S1553, in conjunction with Assembly Bill A6399, calls for the records of certain misdemeanors to be sealed after three years and felony records after seven, as long as there is not another felony charge pending.
Registered sex offenders and those on probation or parole would not have their records sealed.
"If we want a stronger, safer and more vibrant state, then it is time we pass the Clean Slate Act," said Myrie, whose district is in central Brooklyn. "Every day we wait means more New Yorkers are condemned to punishment, pain and hardship that destroys our communities and hurts economic growth."
Cruz and Myrie gathered with community leaders, small business owners and formerly incarcerated residents to gather support for Clean Slate. One speaker at the event was Ames Grawert, senior counsel in the Justice Program at The Brennan Center for Justice (at New York University). Grawert conducted research that showed formerly incarcerated people earn about half as much as those who haven't, and people convicted with a felony, a quarter. The intention of Clean Slate is to seal and eventually wipe past records so that ex-felons will have an easier time finding gainful employment.
"In New York a criminal record is almost always permanent and publicly accessible, causing long-term economic hardship," said Grawert. "At least 2.3 million New Yorkers have a conviction record of some kind…This problem affects all of our communities and our state's economy suffers because of it. The Clean Slate Act gives us a rare chance to build a fairer, safer, and more prosperous New York."
The Brennan Center estimates that those who serve time in prison lose an average of $484,000 in wages over their lifetime. This contributes to income inequality and perpetuates poverty in black and brown communities, where incarceration rates are disproportionately high.
A study by the Social Science Research Network in Michigan, where expungement laws similar to Clean Slate already exist, showed that formerly incarcerated individuals were 11 percent more likely to have jobs and earn 22 percent higher wages.
Though the study showed that 96 percent of ex-felons with expunged records in Michigan were never convicted of another crime, Clean Slate has received its fair share of detractors. Political Strategist Hank Sheinkopf expressed concerns about the effect expungement could have on law enforcement.
"Sealing records sounds like a great idea. It also tends to make it more difficult for detectives to do their work because determining patterns of crime and previous arrests is often helpful," Sheinkopf told Brooklyn New Service. "Sealing those records will just make it much more difficult for inner-city detectives and other detectives around the country to do their work."
Beyond concerns of public safety, some New Yorkers, such as Anthony Guarino, are concerned about fairness to small business owners.
"I personally feel as though, on the topic of employment, I don't agree with the bill," Guarino said. "I feel like you should be able to know who you're hiring and their background. For instance, even if it's something as small as petty theft, I feel like that's something an employer has a right to know because otherwise, it could present a liability issue in the future."
Both S1553 and A6339 are currently in respective committees and will be a top priority when the New York State Senate returns to session in January 2022.