For Mental Health Awareness month, Renee Beyda reports  on Chirlane McCray's efforts to enhance New York City's aid to the mentally ill.
In honor of Mental Health Awareness Month, First Lady Chirlane McCray visited Washington  for three days starting May 10 to advocate for improved mental health services in New York City, and to raise funding for her initiative ThriveNYC: A Mental Health Roadmap For All.
In Washington, the city's first lady met with members of Congress and urged them to pass bills that would overhaul the nation's mental health services. She supported the Mental Health Reform Act of 2016, sponsored by U.S. Senator Chris Murphy (D-Conn.) and the Recovery Enhancement for Addiction Treatment Act. McCray also held a leadership discussion regarding minority mental health.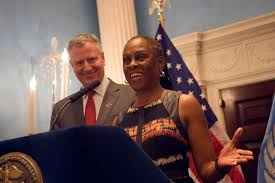 McCray said the lack of infrastructure and resources for mental health is a national crisis and that  "it will take attention from every level – city, state and federal – to make the kind of progress we need."
Last November,  Mayor Bill de Blasio and McCray announced the $850 million mental health program called ThriveNYC that McCray is heading. It is made up of 54 initiatives aimed at supporting New Yorkers' mental health.
City officials say that Mental Health Awareness Month offers the chance to focus on a neglected area of healthcare. "Thrive NYC is New York City's ambitious and wide-ranging plan to address mental health and substance misuse challenges across the lifespan and across the continuum of care," Deputy Mayor Richard Buery said.
As part of ThriveNYC, McCray launched "Today I Thrive" in April. It is a new mental health awareness campaign telling victims' stories on TV, social media, buses, and subways, last month. The ads aim to open up the conversation about mental health, and invite New Yorkers to de-stigmatize the common issue. The campaign focuses on eight men and women who have struggled with some kind of mental illness.
McCray says that telling these stories will help erase the stigma associated with mental illness. "I hope this campaign encourages others to share their stories and talk honestly about mental health. Together, we can change the mindset around the mind," McCray says. "We can make it as easy to talk about anxiety as allergies, so no one else suffers in silence.'
For McCray, the journey of mental illness hits close to home. Both of her parents suffered with depression, a close family member was diagnosed with bipolar disorder, and one of her childhood friends committed suicide. But mental illness hit closest to home a few years ago when McCray and de Blasio's daughter Chiara revealed her drug addiction, anxiety, and depression. Today Chiara is in recovery, and sharing her story to help others overcome mental illness.
Thrive NYC aims to change the conversation about stigma surrounding mental illness, and close the treatment gaps by providing equal health care to all New Yorkers. Over one thousand new providers will be trained to provide buprenorphine, a drug that prevents withdrawal symptoms in substance abuse users. Thrive NYC will help promote, prevent, detect, and treat mental illness in New York, to make a happier and healthier city. For all New Yorkers, NYC Support, a program finder which helps people quickly and easily find resources they may need.