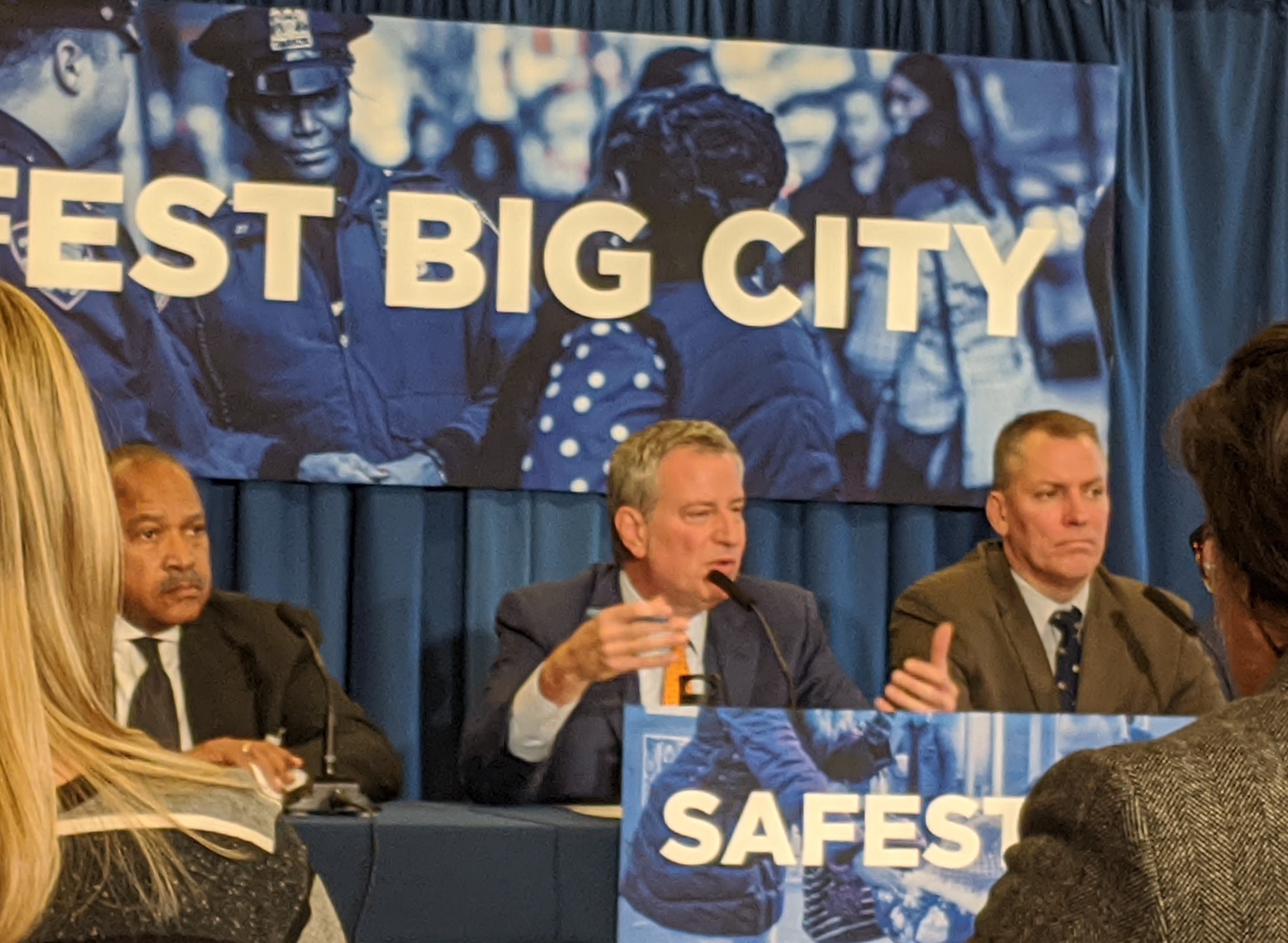 By MARIE FIERO
Crime in New York City has continued its downward trend according to statistics touted by Mayor Bill de Blasio and new Police Commissioner Dermot Shea at a press conference on Thursday, but data shows an increase in some violent crimes.
The crime index has decreased overall by 1.3% from 2018 to 2019, the officials said. Although there are fewer shootings this November versus last November, shootings are up year-to-date with 720 in 2019, compared to 696 in 2018.
"The good news is overall crime continues to go down," said de Blasio, "but we are very focused on the challenge of homicide. Year-to-date we are up 22 homicides. That's simply not acceptable." he continued.
Chief of Crime Control Strategies Lori Pollock said that the increase in homicides can be partly attributed to an increased number of reclassifications of homicides. Deaths from past years can become classified as homicides after investigations end. This year there were more than double the amount of reclassified homicides as last year. 15 of those reclassifications came from deaths from last year, but there were deaths going all the way back to 1987 on the list.
The press conference took place in the Bronx's New Settlement Community Center, in the 44 precinct, where Shea started as an officer.
"It's also important to think about where this precinct was the day you joined in 1991 versus where we are today," said de Blasio to Shea. "The immense progress that has been made, and it's for a lot of reasons, but in recent years especially because of neighborhood policing and precision policing making a huge difference." he continued.
In conjunction with neighborhood policing, the commissioner said he plans to do more youth outreach to help keep teens on the right track.
"As you know, that is one of the highest goals we in the NYPD have," said Shea "to guide young people along the road to success. If we can help kids, teenagers especially, avoid a first interaction with criminal justice system, we'll do a lot to enrich our neighborhoods, while continuing to reduce crime." he continued.
The new Chief of Detectives Rodney Harrison and Chief of Patrol Fausto Pichardo, who were appointed Wednesday, were also congratulated at the event. Pichardo is now the highest ranking Dominican officer in the history of the New York City Police Department.
"I'm just elated to serve in this position, to work side by side with the many dedicated men and women on patrol," Pichardo said. "I look forward in the coming days to going out to all the precincts in the city; meet the community certainly."
Photo by Marie Fiero